"The mayor, asleep", Gjiknuri "comes out" against Rama: Vlora, witness to the transformation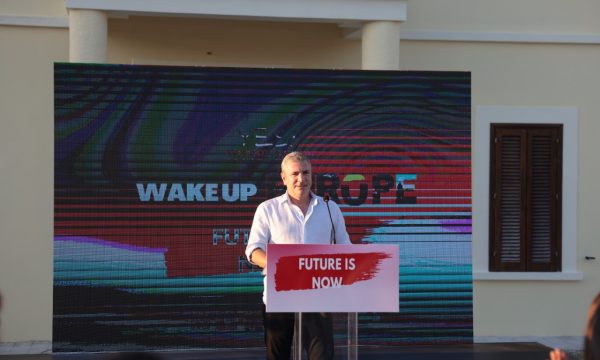 Unlike Prime Minister Edi Rama, who has not spared his criticism of the mayor of Vlora, Dritan Leli, the General Secretary of the Socialist Party, Damian Gjiknuri, thinks that Vlora is witnessing a transformation.
Number two of the socialists stated that Vlora has witnessed the positive changes that have taken place in Albania under the socialist government.
"Vlora, a city that has undergone a great transformation. Of course, this is an activity to enjoy Albania, to enjoy this city and to see all the transformation that this country has seen in recent years. I have witnessed, along with many Albanians, how much Vlora has changed and you have seen that it is one of the liveliest cities, especially at this time of the year, the summer season. And of course, where better than in this city, it would be better to organize this workshop with young people, wherever they come from, to enjoy the city, but at the same time to exchange ideas between the young generation of politicians, for the future of the world; for current developments and of course for the futureGjiknuri added.
A few days ago, Rama described Leli as the mayor who sleeps. "While we have municipalities like Vlora, we have a mayor who is sleeping. A place with great potential… Being xix breakfast, lunch, dinner. Without talking about municipalities that have great potential such as Pogradeci. The most exemplary municipality, including Tirana, is Shijaku. They have something to learn from the municipality of Shijak. Tirana and Durrës have time to draw from their natural capacities. Will and patience are the issue. Albanians were poor, but they were not Pisanjos. Now this situation speaks volumes, not about what was done, but what a shame that there are still areas and parts where there is dirt"– tha Rama.
He underlined the importance of youth activism in politics as an opportunity not only to form character, but also to change their country.
"I think this is a good opportunity to exchange experiences from your countries, especially on these policies. Of course, we think that the participation of the youth is a guarantee for the future of politics, because any organization without the participation of young people is "dead" and especially the political ones, even though sometimes nowadays some people say that this is not professional , but there is no other way to regulate a country or protect your future, without direct participation in politics. So I think that every action, every time you spend in politics, is valuable not only for you, to shape your character, but at the same time to change the world." emphasized the General Secretary of the SP, Damian Gjiknuri.
Gjiknuri stated that SP continues to be the main force even after 9 years of being in power, as there are always young men and women who join it.
/Rhewal