The five scenarios of the escalation of the situation in Ukraine, and what the West should do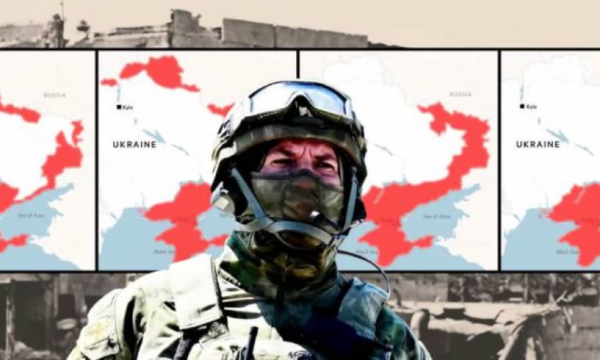 Francis Shin, Damir Marusic & Tyson Wetzel "Atlantic Council"
After slow but steady gains in eastern Ukraine recently, Russia has moved closer to its recalibrated goal of conquering the entire Donbass region. Although its military has suffered heavy losses – and the Kremlin's current objectives are far smaller than the original goal of capturing Kiev and overthrowing the government – ​​the chances of this war escalating remain high. Here are the 5 possible scenarios and our recommendations on what the West should do.
A level close to actual violence
NATO and the European Union should follow the United States' lead by formalizing their military aid program for Ukraine, and model it after the Ukraine Democracy Defense Lending Act of 2022. Such a program could enable former Eastern Bloc countries and Finland to send their old surplus weapons to Ukraine, replacing them with modern military technology.
The West should also support Ukraine's efforts to accept Russian soldiers who have deserted and are afraid to return to Russia. On the other hand, larger loopholes in existing sanctions regimes must be closed, such as the US Treasury's decision in May to begin freezing Russia's debt payments.
Russia's economic revenge is intensifying
This could happen, for example, by restricting or completely banning oil and gas shipments to Western countries dependent on Russian hydrocarbons. In these scenarios, the list of bans of Russian entities from the SWIFT payment system should be expanded.
By June, only 7 Russian banks had been removed from the SWIFT payment network (although the European Commission has proposed removing 3 more banks). The US should work with the EU to expel more Russian banks from the SEIFT, as such a move would raise costs for Russia, reduce its banks' ability to interact with the global financial system, and reduce the funds it can raise. to be used by the Kremlin for war.
Also, Europe could set a price cap on Russian energy, and create a common European debt to facilitate the huge increase in military spending promised by NATO members.
Russia launches a cyber attack
NATO should direct military aid to Ukraine to limit Russia's offensive cyber capabilities. This can be achieved in part by freezing or writing off Ukraine's debt. As of May, Ukraine's public debt had risen to $101.4 billion.
G7 finance ministers are already discussing the need to suspend or even write off Ukraine's national debt so it can maintain its war economy and continue production of military equipment and defense.
If Russia attacks the United States and its European allies, Washington must be prepared to respond with either a proportional or non-proportional response, depending on the scope and effect of the Russian cyber attack. Targets could include Russian military networks and systems, advisers to President Vladimir Putin and influential Russian oligarchs.
Ukrainian troops face a defeat on the battlefield
In this case we recommend the reuse of assets seized by Russia. Those overseas can be confiscated more easily. To this end, US Congressmen Tom Malinowski and Joe Wilson have introduced the Asset Forfeiture Act for the Reconstruction of Ukraine, which provides for the reuse of any assets of the oligarchs placed under sanctions since February of this year, which far exceeds 5 million dollars to finance humanitarian aid and the reconstruction of Ukraine after the war.
A military buffer zone should also be declared. The loss of the Ukrainian army in the south or east would leave Kiev and other major cities vulnerable to the advance of the Russians. Therefore, this buffer zone, which will be established by NATO forces, would prevent further Russian aggression.
And after creating the buffer zone, if there will be an escalation from the Russian bombing campaign, NATO should expand the buffer zone into a humanitarian protection zone that includes the 3 westernmost regions of Volyn, Lviv and Zakarpattia.
This may be accompanied by the launch of humanitarian flights for the distribution of Ukrainian refugees to all EU countries. Finally, the United States, together with allied countries, may conduct a limited military operation to prevent the complete annihilation of Ukrainian forces.
Russia uses weapons of mass destruction in Ukraine
In this scenario, the United States and NATO members should announce the creation of a no-fly zone in the Donbass region. Russian air defenses in Donbas will be hit, and every Russian aircraft, helicopter and drone will be destroyed. It should also launch a punitive military operation to restore the front line to where it was before February 24. Allied forces would destroy the Russian air force to establish air superiority, while air and missile strikes would be used to attack and decisively defeat ground forces, command posts, reinforcements, logistics, and supply routes.
Taken with cuts
Note: Francis Shin, Damir Marusic and Tyson Wetzel, researchers at the European Center of the American think-tank "Atlantic Council". /abcnews.al