Kosovo athletes finished competing in the European Youth Olympic Festival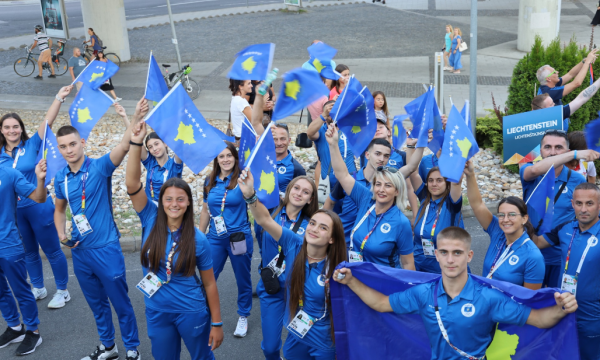 13 athletes from seven different sports represented Kosovo at the European Youth Olympic Festival "Banska Bystrica 2022", which will close today with the closing ceremony.
The greatest success was achieved by judoka Muharrem Hyseni, who took ninth place in the category up to 66 kilograms.
The other judoka, Muhamedin Veseli, was eliminated in the first round of the -60 kg category.
Our team closed the competitions on Friday with swimmer Hana Bejiqi, who competed in the 50-meter breaststroke discipline, where she took 37th place out of 47 competitors.
Hana also competed in the 100-meter breaststroke, ranking 41st out of 47 competitors.
Meanwhile, in the 400-meter crawl, Mal Gashi came 31st.
In athletics, Vesa Jusufi took 19th place in the 400 meters discipline, while in the 100 meters he came 22nd. Lorent Mazreku competed in 1500 meters, and took 14th place, while Emine Jonuzi was 20th in the 200 meters race.
In tennis, Altea Hajrizi and Salidin Rama competed, who suffered losses in individual and friendlies, both in the first round.
The sport of badminton was also represented at the EYOF, with athletes Fijona Mustafa and Baton Haxhiu, who despite the experience gained, failed to score victories in individual events where they were in groups, as well as in mixed events.
Cyclist Omer Azemi competed in two disciplines, time trial and road race. In the first, the 90th came out, while in the second, the 84th. He managed to finish the second long race of 65.8 kilometers, which before was a challenge for many of our cyclists, to reach the goal, based on the rules of the World Cycling Federation.
Artistic gymnastics was represented by Vilëza Zeqiri, who competed in the combined discipline of acrobatics and skipping. She finished 61st, but gave hope for a bright future.
The athletes were also supported by KOK leaders, vice presidents Gazmend Maxhuni and Milaim Kelmendi, as well as EU members, Bujar Turjaka and Avni Nuha, who came for the cycling race.
The next summer EYOF is held next year in Maribor, Slovenia. /Express newspaper/