In the modular hospital of Tetova, the fire broke out from the defibrillator and not from the extension cable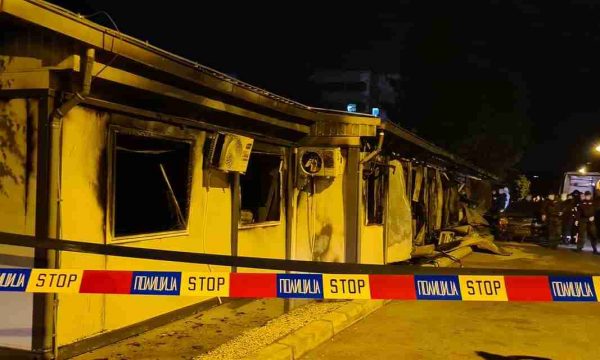 While the prosecution of Tetova has filed charges in the Basic Court of this city for the burning of the Modular Hospital that happened 10 months ago, for the first time, one of the witnesses of this event, requests that his testimony be taken into account by the authorities.
In an interview for ALSAT, Mumin Ismali, who was present during the incident that took his mother's life, shares with Alsat his efforts to survive, but after waking up from asphyxiation, he sees that he has survived, but not his mother. In the testimony given to ALSAT, Ismaili says that he stayed for almost a month inside the modular, at the request of the hospital doctor, in order to serve and help his mother. According to him, the fire first fell in room 3, but despite his efforts to get out, the mesh of the windows and the smoke of the fast flames, collapsed him to the ground in asphyxiation, for almost 8 minutes until he woke up again.
"The doctor asked that one of us stay with the patient because there was no service. The oxygen tubes were filled with water and in four or five minutes they had to be refilled because the water was used up for the oxygen to work and we were both a doctor and a nurse. And I, I was not alone there, I made many friends in the hospital for 28 days", said Mumin Ismaili, a family member.
Ismail testifies to details that lead to the correction of the investigative track. He says that the fire did not come from the extension cable, as stated in the prosecutor's report, as well as in the report of German experts. He gave this testimony to both investigative bodies, both local and foreign.
"In room number three where the fire started, my mother and a Macedonian girl, Marija, 21 years old, were lying. Marija's condition worsened that night and they brought a cardiologist to revive her heart. When they put the defibrillator on her body, that's when the fire started. Although the Germans said that the fire came from the extension cable, it is not true. The defibrillator was not placed on the extension cable, even though there were two extension cables in the room, not one, but the defibrillator was placed on the bed as it was, Marija was in one, the second was empty, and my mother was in the third. Because my mother was room three bed three. The defibrillator was located in bed number two on the direct plug, there was no extension cord, and the fire when it first started was from the defibrillator exploding. That's where the fire first started in the camera," added Mumin Ismaili, a family member.
Ismail claims that his testimony will be taken into account, sharing with us a dose of doubt regarding the institutions of justice. However, like many other family members, he says that they will seek justice to the end, even before international institutions./Alsat.mk