Germany considers a return to nuclear power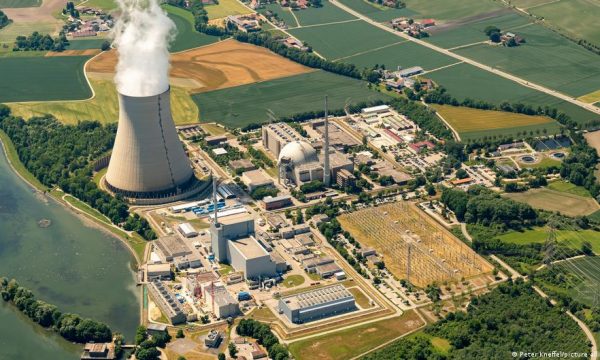 After returning to coal-fired power plants, the German government is considering keeping nuclear plants. The aim is to avoid the energy crisis in winter, writes Auron Dodi.
Germany fears it could face a power shortage this winter. In this situation, the government is considering all possible resources to avoid this scenario. Gas, which used to fill energy gaps, has now turned into a non-preferred source. This is because after the start of the war in Ukraine, Russia has limited the supply to Germany to 20% of the previous amount. The government is rapidly building four terminals to import liquefied natural gas, LNG. But the expensive gas it will import, it is obliged to save as much as possible.
In this framework, the government is considering whether nuclear power plants can alleviate a crisis in Germany's energy supply. Chancellor Scholz has hinted that the country's nuclear power plants may not be closed as planned at the end of this year.
The likelihood that nuclear power plants will remain open
The public discussion about this step started in March. Then it was also requested to extend the working time of coal-fired power plants. How big is the risk of an energy crisis in Germany in the winter, Economy Minister Robert Habeck is currently trying to ascertain with a stress test, with a worst-case scenario.
Even before the test is finished, according to a source, it is thought that Bavaria, the second largest federal state in Germany, could be in a problematic situation in case of an energy crisis in winter. This is because Bavaria produces electricity mainly from gas and nuclear energy. Therefore, the first nuclear power plant whose maintenance can be extended is the one in Bavaria, Isar 2. Germany also has two other nuclear power plants in operation: in Baden-Vyrrtemberg (Neckarwestheim 2), in Germany's third largest state , and in Lower Saxony (Emsland). Together they produce about six percent of Germany's energy needs.
Keeping nuclear power plants – breaking the taboo for Germany
Keeping nuclear power plants is considered a taboo violation for Germany, because the abandonment of nuclear energy was decided by law in 2011. After the Fukushima disaster, Chancellor Angela Merkel decided to close Germany's nuclear power plants by the end of 2022. For this decision it had widespread support at the time: as a path to greater security; to escape from the nuclear waste of power plants; but also to promote renewable energy sources.
Until the war in Ukraine started, it was not even thought that this decision would be reversed. But with the outbreak of war and the change in Russia's policy, it was deemed necessary for Germany to break away from its great energy dependence on Russia, primarily for gas supply. So, in addition to the epochal turn in defense, the need for an energetic turn of Germany was laid.
Nuclear plants can be an additional source, to limit the increase in energy prices. All the more so when the demand for it may increase: many people may switch to electric heating if gas is missing or when it becomes more expensive.
Germany covers 13 percent of its energy needs with gas. Germany uses gas from Russia for industry and for heating.
Franz Josef Strauß's Atomic Program and European Solidarity Today
Many countries are returning to nuclear power. Japan will put nine nuclear power plants into operation by winter. France will build six new nuclear power plants, in addition to the 56 existing plants it has. Germany has had 22 nuclear power plants. Until 2011, there were 15 of them at work.
In West Germany it was Franz Josef Strauß, the "Federal Minister for Atomic Affairs" who launched a nuclear program in the 1950s. He did this surrounded by the distrust of his neighbors, since Hitler's Germany had tried until the end to build a nuclear bomb.
But faith in free nuclear energy was shaken by the demonstrations of the 1970s and the Chernobyl disaster in 1986. Germany has also had a strong ecological movement since then. It is one of the few countries where the environmentalist party, the Greens, have been and are in power. The Greens in Germany have their beginnings as a party precisely in the anti-nuclear protest movement.
Even today the Greens oppose nuclear power. However, the Green Foreign Minister, Annalena Baerbock, admitted that "we are now in an emergency situation, where we are once again examining everything". She told Bild-TV that it is important that "every step is based on facts."
Of the other members of the government, like the Greens, the social democrats are reserved. But a spokesman for Social Democrat Chancellor Olaf Scholz said the chancellor would set a course of action "completely free of ideologies". For this he awaits the results of the current, second, energy stress test.
While the liberal party, FDP, openly requests the extension of the maintenance of nuclear power plants – as a sign of solidarity with Europe. Solidarity is also required with France, in a difficult situation as half of its nuclear power plants are out of order for technical reasons. The CDU/CSU opponents demand the same thing.
Returning to coal-fired power plants – the next painful step
The government is looking for ways to save gas, but also to keep energy prices under control. However, she decided to partially pass on the increase in the price of gas in the market yesterday to the consumers.
The Minister of Economy of Germany, Robert Habeck, said that the price of gas will increase from October 1. For a family in Germany, gas will cost between 300 and 1000 euros more per year.
This is exactly the situation when the German government took another step a few days ago (13.07.): it returned to the electricity market power plants that operate with coal and diesel.
With a decree, it was decided that for a limited period, until the end of winter, 27 coal-fired power plants will produce energy. 11 of these power plants, already in the grid, will not be extracted from it. Another 16 will be brought back online.
The Green Minister of Economy, Habeck said that the use of coal is a painful but necessary measure. Germany's coal phase-out target, 2038 at the latest, according to the government, remains intact./DW