Story of the week / Maupassant: Cunning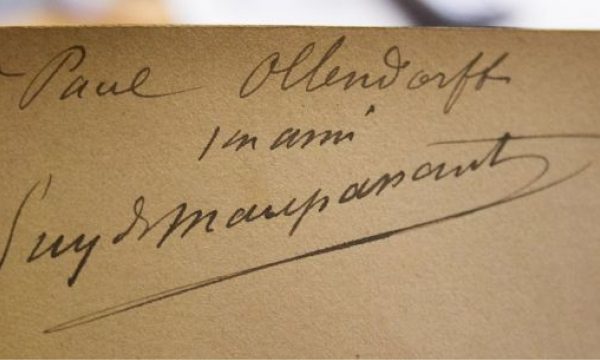 Henri-René-Albert-Guy de Maupassant – (Tourville-sur-Arques, August 5, 1850 – Paris, July 6, 1893), writer, playwright, travel reporter, essayist, and French poet, one of the fathers of modern storytelling. Maupassant is deeply influenced by Zola and Flaubert, as well as the philosophy of Schopenhauer
– Women?
– Yes, what women?
– Here's what.
There are no conjurers more skillful than those to lie to us in any case with or without motive, often just for the pleasure of ensnaring you. And they lie with unbelievable naivety, with extraordinary courage, with unattainable delicacy. They lie from morning to night and all of them: the most honest, the most honest and the most reasonable. But, I add here that they are also a little forced. The man always behaves stubbornly like a fool and demanding like a tyrant. He imposes funny things in his house at every moment. There are many ways and the woman makes up for it by cheating on him. She makes him believe that something costs a lot only to have the man scream back that it costs even more. And it accomplishes what it wants with ease by confusing us with primitive, subtle ways that, when we accidentally discover the tricks. We lower our shoulders and repeat as if stunned: "But how did we not notice this before?" ". The man who spoke thus was a former minister of the Empire, Count L… a man beaten by life and high-minded. A group of young men kept their ears perked and listened intently. He continued to say: – I was lied to by a simple bourgeois, in a funny but very masterful way. I will tell you the case as a tip to keep in mind. At that time I was the Minister of Foreign Affairs and every morning, I had made it a habit to take a long walk on foot to Champs Elise. It was a barely May morning there and I was walking, inhaling the pleasant aroma of newly opened leaves. In time I had noticed that I met for every day an adorable woman, one of those wonderful creatures which are held up as a symbol of Paris. Beautiful? Yes and no? Regular body? Maybe even better. Your waist is narrow, your shoulders are too straight and your breasts are too provocative, but I prefer these nice dolls for the big body like Aphrodite of Milos. Then they can spin you in an incomparable way and with a single movement of their face send waves of desire to your core. She seemed to follow me with her gaze as I passed. These types of women always have a look at something that they never understand. One morning I found him sitting on one of the benches with an open book between his hands. I asked her to sit next to her. Five minutes later we were good friends. Every day after that, after the usual greeting with a smile, "Good morning, Madam", "Good morning, Sir", we started the conversation. She told me that she was the wife of a clerk, leading a sad life, with rare pleasures and frequent preoccupations and a thousand other things. I told him who I was, casually or maybe just to brag. She pretended to be surprised by what I said. The next day she came to find me at the ministry and then she did this so often that the doormen who already knew her whispered to each other the name they had given her: "Miss Leone". I took this name from him. For three months, I met her every morning without getting bored at all, she knew how to constantly change and delight her kisses and caresses. But one day I noticed that her eyes were watery and there were traces of tears that proved that something was bothering her and she seemed to be absorbed in secret thoughts. I asked her, begging her, to tell me the pains of her heart and finally she told me through gritted teeth: – I am… I am pregnant – and burst into oil. – Ouch!, I made a grimace and I should have turned yellow as it always happens in these kinds of announcements. You don't know what a painful effect this kind of announcement of an unexpected paternity causes, but you will learn these things later. While I stammered back: – Yes, but you have a husband, isn't that right? – Yes, but my husband has been in Italy for the past two months and is not coming back for a while. I had to free myself from this responsibility at any cost, so I told him: – You must leave and go to him immediately. She blushed to the roots of her hair and, lowering her eyes, turned to me. – Yes, but, – and did not continue or did not have to finish the sentence. I understood what he meant and with some delicacy I put in his hand an envelope with the money he would need to go there.
* * *
Eight days later he wrote to me from Geneva. A week later, I received a letter from Florence, then from Livorno, from Rome and from Naples. She wrote to me: "I feel good, my love, but I am ugly. I don't want you to see me like this before this is over, that you won't love me anymore. My husband does not suspect anything. Since his mission requires him to stay in this country for a long time, I too will not return to France until after the birth. At the end of eight months, I received a notice from Venice with only these words: "It's a male." A little while later, one morning, she came rushing into my office, fresher, more beautiful than ever, and throw in my arms. After that our love affairs resumed as before. I left the ministry; she started coming to my house on Drenel Street. He often talked to me about the baby, but I could hardly hear him. This did not concern me. In the meantime, I gave her a good amount of money saying: – Put this money in his name. Two years passed like this and she talked to me more and more persistently about the little one, about "Leone". Sometimes he cried. – You don't love him, he told me, you don't want to see him even once. If only you knew how much pain this causes me. Finally, one day, she insisted very much that I promise her that the next day I would go to Champs Elise at the time she took the child out for a walk. But, the moment I was about to leave the house for this, a fear entered my body that forced me to stop. Man is weak and stupid, who knows what happened in my delay. Maybe I realized that I started to love that being born from me. My child! ! I put the hat on my head while holding the gloves. I slammed the latter on the desk while I threw my hat on a chair. – No, – I said to myself, no, I will not go. It will be better this way. Meanwhile, the door opened and my brother entered. He handed me an anonymous letter that you had received that morning. In it was written: "Inform your brother, Count L…, that the lady of Casset Street is insolently making fun of him. Let it search for data on it. "
I hadn't talked to anyone about this old love affair. I was confused and told my story to my brother, from beginning to end. Then I added: – I will not deal with this problem at all, but you will do me a great honor if you will be informed about it. When he left to investigate I thought: Why would she lie to me? Are there other lovers? And what does this matter? She is young, fresh, beautiful, nothing else I want. She seems to love me and generally it doesn't cost me much. I didn't really mind. " My brother quickly returned. At the police offices, they had given her accurate information about her husband. He was a clerk in the Ministry of the Interior, a correct man, trusted and respected, but married to a very beautiful woman, whose expenses were a little exaggerated for her modest position with the little income from her husband. That was all. My brother had gone to look for him at home, but the doorkeeper had told him that he had gone out and was not there. Then, yes from her, but, against a payment like the chicken, you had said: "Ms. D. . . . . . is a very good woman and her husband is also a good man, not conceited; they are not rich, but they are generous." To learn something more, you asked my brother: – How old is their child now? – Yes, they don't have children, sir, – she told him. – How? What about baby Leon? – No sir, you are wrong. – What about the baby that the lady gave birth to during her stay in Italy two years ago? – She has never been to Italy, sir. She has never left the house since she has been living in this house for five years, she added later. My brother was surprised, he had made other investigative interventions and could have pushed his research even further. -So, neither trip nor children. I was stunned by what he told me, but I could not understand the intentions and the background of this comedy. – I want to know everything, – I told him. I will invite him to come here tomorrow. You will stay here in the office in my place. If she has thrown me, you will give me these ten thousand francs and I don't want to see her again, I am starting to get very upset.
* * *
Do you believe it? A day ago I was upset because I had a child with this woman, now that I learned that I no longer had it, it irritated me, humiliated me, made me suffer. I found myself free, freed from every obligation, from every worry but. . . . . a little crazy. My brother was waiting for him in my studio the next day. With a start, she rushed in, as usual running with open arms, but immediately stopped in shock at the sight of a stranger in front of her. He greeted her apologetically. – I apologize, madam, for finding me here instead of my brother, but he has charged me to get some explanations from you and that he would be very upset if he asked you personally. Meanwhile, he stared at her and said sternly. – We already know that you did not have any children with my brother. After the first moment of astonishment, she regained her posture, sat down and saw this kind of judge smiling and simply answered: – No, I don't have children. – We know that you have never been to Italy. This time he laughed with all his heart. – No, no, I have never been to Italy. Then my confused brother said to him: – The count has instructed me to tell you that everything between him and you is already over and he is sending you this money. She assumed a serious demeanor again, calmly put the money in her pocket and asked him innocently: – So I won't see the count again? – No ma'am. She looked upset and added in a calm tone: – Gjynah, I loved her very much. Seeing that she took things so calmly, my brother said with a laugh: – Look, can you tell me honestly why you created this whole long story about the child and the trip to Italy? She looked at him surprised, as if he had asked her a stupid question and answered: – Eh! This, a subtle trick. Do you believe that a petty and poor bourgeois like me would have managed to maintain such relations for three years with Count L…, a great gentleman, a man of fashion, rich and charming in that he would not use such a trick? It's over now. This could not last forever. By all means I managed for three years. You will greet him strongly from my side. He said this and walked away. My brother asked him again: – What about the child? Didn't you have a child my brother would see? – Of course, my sister's son. She delivered it to me on time. I bet she let you know. – Okay, what about all those letters from Italy? She stood to laugh out loud. – Oh! Those letters. . . . it is a whole poem. The Count was not Foreign Minister at all, for nothing. – But. . . can you tell me – This is my secret. I don't want to compromise anyone on this. After that, saluting with a laugh almost like a song, she calmly left the studio, like an actress who had debuted her role.
* * *
And Count L. . . . he added as if for morale: – I trust these scumbags. . . . . .
Published in "Zhil Blas" on December 12, 1882 under the pseudonym Mafrinioz.
Translated by: Kristaq Kotonika
/Rhewal