Laporta: We would like Messi to retire in Barcelona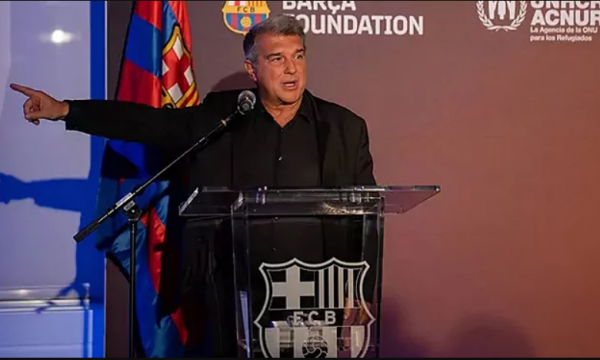 The Argentine joined PSG last summer
Joan Laporta has admitted that Barcelona and Lionel Messi have not parted ways in the best possible way, but he has expressed his desire for the Argentinian forward to hang up his boots at the Blaugrana.
Messi left the club last summer and joined Paris Saint-Germain on a free transfer, with Laporta saying Barcelona at the time had no chance of renewing his contract.
"This was an aspiration that I have as president and I would like it to happen, since I have shared responsibility for that end, which I consider temporary," said Laporta.
"Messi's time at Barcelona didn't turn out the way we all would have liked. It ended up like that because of the economic conditions and we now have a moral debt to him."
"In this sense, we would like him to finish his career in the Barcelona shirt and we will all applaud him when he comes out on the pitch."
Barcelona have been very active this summer during the transfer window, with opponents raising eyebrows at the amount of money the club has spent on new players.
"I feel that we are working very well, the players want to come to Barcelona again", added Laporta.
"We are building a very well-balanced squad that can challenge for titles in all the competitions we aim to win. There is a lot of competition, with at least two players per position who are very good," he said.
"For those who are surprised, I tell you that we are very clear. We are back on the market. The weight, power and value of the club that has more than 122 years of history is great. There will be even more surprises to come."
Asked about the concerns or frustration of some clubs about Barcelona's recent transfers due to finances, Laporta called these words "ignorance", saying that the Blaugrana "came out of the hospital thanks to its financial levers". /Express newspaper/