Laporta makes fun of Bayern: Look at the turnover for Lewandowski's payment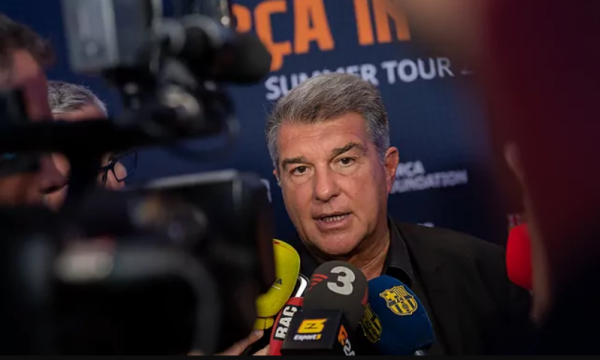 The Pole joined the Blaugranas this summer
Barcelona's moves this transfer window have caused many to raise their eyebrows. People from Bayern Munich and Chelsea have already expressed their displeasure with the fact that the Blaugrana are spending so much despite their financial problems.
During an event in Manhattan to promote the agreement between the club and UNHCR, the United Nations refugee agency, Joan Laporta stood by his transfer plans.
He also sent a message to Bayern Munich after coach Julian Nagelsmann criticized his club's investments.
"What I want to ask Bayern Munich is to check their bank account," said Laporta.
"They have earned a lot of money for Lewandowski's transfer. I respect everyone and I don't meddle in other people's finances."
Laporta has been critical of other clubs who have commented on Barcelona's financial situation without even having essential information about their problems.
"I give them the right because they may have suspected that we can't do it, but they didn't appreciate the power of Barcelona and the policies of the new board," added Laporta.
"It's a lack of knowledge, a lack of information about our club. Financial leverage has strengthened the club a lot. We have already turned things on our side".
"Barcelona has more than 120 years of history and our assets are of great value. A much higher value than the assets of other clubs, which have the values ​​they have. For the rights to the television show for 25 years, not for 50, as others have said, we received 667 million euros and half a million euros, do you understand me?", he said.
"So we are doing a good job. I would have preferred not to do it, but it had to be done because it was necessary and football does not wait. Barcelona fans are already used to our demands being high. We have more than 400 million fans who demand more from us than the rest. Everyone has their own thing to do, if it doesn't interfere with what others are doing, I would also ask them not to interfere with us."
"We will compete on the field and see who has worked harder and better. I don't say this on purpose for debate, but let them worry about the things they do", said Laporta. /Express newspaper/