Hovenier with Trnava for the Islamic New Year, they welcome him with "Russian" tea at the Great Mosque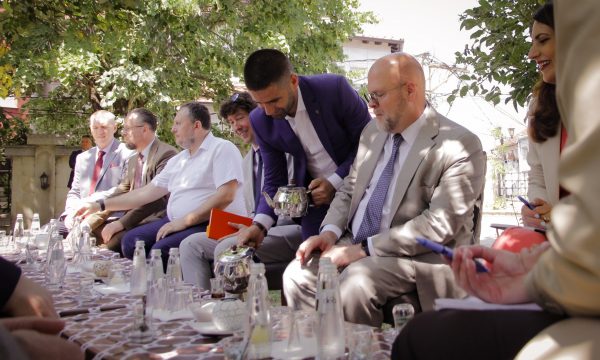 The American ambassador, Jeff Hovenier, was received today by the mufti of Kosovo, Naim Tërnava, at the Great Mosque in Pristina.
Hovenier said that today he was honored to mark the Islamic New Year together with Mufti Tërnava, where they also discussed the ways that every Kosovar can worship free from discrimination.
"Respect for diverse religious and cultural heritage is a cherished ideal in any modern multi-ethnic democracy. Today, I was honored to celebrate the Islamic New Year with the Mufti of Ternava in the Great Mosque and to discuss ways to ensure that every Kosovar can worship without discrimination," Hovenier wrote.
Respect for diverse religious and cultural heritage is a cherished ideal in every modern, multi-ethnic democracy. Today, I was honored to mark Islamic New Year with Mufti Ternava at the Grand Mosque and discuss ways to ensure every Kosovan can worship free from discrimination. pic.twitter.com/Tw5rY6mZxn

— Ambassador Jeff Hovenier (@USAmbKosovo) July 29, 2022