Covid, over a thousand new cases, 3 deaths in the last 24 hours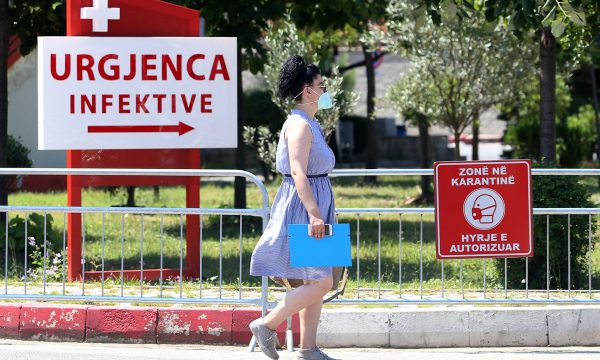 COVID19/ Ministry of Health: 2413 tests, 1084 infected citizens, three deaths and 1527 recovered in the last 24 hours
Due to the increase in the number of citizens affected by Covid19, the Ministry of Health again calls on citizens not to neglect the anticovid vaccination, especially in this period of increased contacts, due to movements during the summer season.
Anyone over the age of 12 can be vaccinated at health centers across the country. Also, the Ministry of Health appeals to all vaccinated citizens to go to the health centers to be vaccinated with the booster dose.
Anti-COVID vaccines reduce the chance of infection and largely avoid hospitalizations and fatalities.
If you have signs of illness or have had contact with a person affected by Covid19, isolate yourself immediately and contact your family doctor to be tested as soon as possible or call the National Emergency at the unique number 127.
We inform you about the situation in the last 24 hours, as follows: 2413 tests have been carried out, of which 1084 citizens have tested positive for COVID19, in these municipalities:
387 in Tirana, 74 in Durrës, 53 in Lushnje, 45 in Vlorë, 42 in Fier, 31 in Gjirokastër, out of 29 citizens in Kamëz, Sarandë, 27 in Lezhë, 25 in Elbasan, 24 in Divjakë, out of 22 citizens in Korçë, Berat, 21 in Dimal, 20 in Shkodër, out of 19 citizens in Krujë, Kavajë, 16 in Devoll, 13 in Tepelën, out of 11 citizens in Shijak, Kuçovo, out of 10 citizens in Dibër, Pogradec, out of 9 citizens in Maliq, Gramsh, from 8 citizens in Vorë, Patos, from 7 citizens in Tropoja, Selenica, Prrenjas, from 6 citizens in Mirdita, Bulqiza, Mallakastër, Librazhd, from 5 citizens in Kukës, Himarë, Skrapar, from 4 citizens in Pukë, Has, Kurbin, from 3 citizens in Malësi e Madhe, Delvinë, from 2 citizens in Fushë Arrëz, Mat, Roskovec, Përmet, from 1 citizen in Rrogozhinë, Këlcyrë, Kolonje, Peqin.
There are 8,722 active citizens with Covid19 throughout the country.
Currently, 29 patients are receiving treatment at the COVID3 hospital. In the last 24 hours there have been three deaths with Sars-Cov2: a 60-year-old citizen from Fieri, a 70-year-old citizen from Tirana, a 76-year-old citizen from Kamza.
1,527 citizens have recovered during the last 24 hours, bringing the number of recoveries to 298,099 since the beginning of the epidemic.
Statistics (July 29, 2022)
1084 new daily cases
Healed in 24 hours 1527
Hospitalized 29
Loss of life in 24 hours 3
2413 daily tests
Total witnesses 1,914,327
Positive cases 310,362
Recovered cases 298,099
Active Cases 8,722
Loss of life 3,541
Geographical distribution of active cases by counties:
Tirana 4,890
716 iron
Durrës 608
Vlora 470
Elbasan 412
Shkodër 337
Weight 321
Korça 285
Lezha 252
Gjirokastra 197
Diber 150
Kukës 84