The 100th anniversary of the relationship with the USA, Biden and Bush message for Albania! Kim: Unwavering faith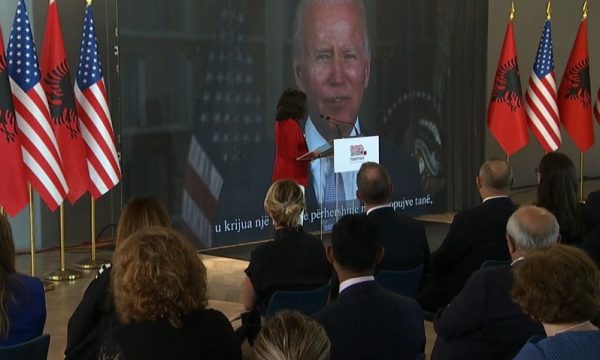 The President of the USA, Joe Biden, has greeted the 100th anniversary of relations between Albania and America through a video message. He stated that the US will continue to be by Albania's side in its journey towards European integration and the other challenges that await it.
American diplomat Yuri Kim also read a message from former President Bush, who visited Albania in 2007. "Laura and I send you our warmest regards. In 2007 I was proud to be the first President to visit Albania. We witnessed your sincere hospitality. I remember your passion for development and tolerance. Albania is a force for good," he writes.
The ambassador said that the USA will never waver from the aspirations of the Albanian nation.
"Many things have changed in 100 years, but here is what remains unchanged; The USA has never wavered from its belief in an independent Albania, we have never wavered in our belief in you. Albania and the USA are true friends and allies. We are proud to celebrate with you this month as you begin negotiations. The USA will never waver from the aspirations of the Albanian nation for democracy", tha Kim.
In her speech at the ceremony of this special moment, Foreign Minister Olta Xhaçka said that even the dictatorial regime could not undo this relationship.
"Thank you for being here with us to celebrate the 100th anniversary of our countries' relationship. Even the communist regime could not destroy a consolidated relationship. This relationship was not canceled because it did not arise from feelings of friendship.
Starting with the decisive role played by President Wilson to save Albania from further fragmentation. 30 years ago I was riding on my neck when Beker visited Tirana. Looking back, the time that has passed has justified that belief and enthusiasm.
Albania is a completely different reality today. We are today an organization that makes a real contribution.
Today is a moment to look back, but also to look forward." said Xhaçka.
Next…