Of the 11 Albanian teams in Europe, only three remain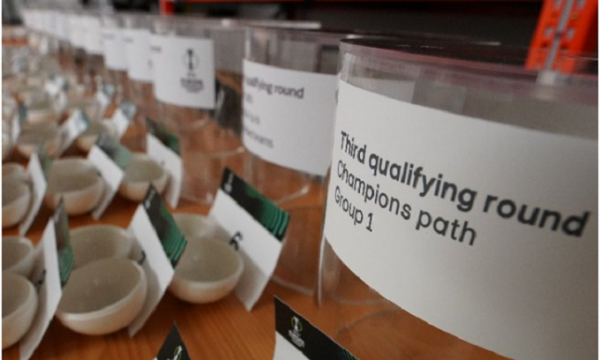 Eight Albanian teams have ended the competitions in Europe after only two rounds, while only the Balkans, Shkëndija and Skopje remained in the race to reach the Conference League groups. The Balkans in the third round have a less favorite team in front of them, like Ki Kleasvik, while Shkëndija meets KuPS of Finland. Skopje plays in the third round of the Europa League against Ireland's Shamrock Rovers
11 Albanian teams in Europe, but their success remains to be counted.
Only during tonight, 4 Albanian teams were eliminated from Europe, where the biggest disappointment comes from the Superior Category of Albania, where four teams of this league were eliminated from these competitions.
Partizan was the first Albanian team to be eliminated by Saburtalo of Tbilisi with penalties, while in the second round Vllaznia of Shkodra, Laçi and finally the champion Tirana were eliminated.
Behind them is Kosovo, where three of the four Kosovar teams that were in Europe for the first time this year have been eliminated.
SC Gjilani and KF Llapi failed already in the first round of the Conference League after being eliminated by two teams almost equal to them, from FK Liepaja of Latvia and Budučnosti of Podgorica respectively.
SC Gjilani lost with a total score of 3-2 and Llapi 4-2.
Drita was very good in the first round, as they outclassed Finnish club Inter Turku in Pristina to win the match 3-0 and advance to the second round with a 3-1 aggregate score.
But in the second round, the Kosovars had a 70 million opponent team, which removed the olive blacks to eliminate it with a score of 0-2 in Pristina this Thursday. In Antwerp, the people of Gilana had drawn 0-0.
But the Kosovo Superliga still has a team that keeps them in Europe. FC Balkani, the champion of Kosovo, will play the third match in Europe against a team that is 1.2 million euros less than them.
It is about the champion team of the Faroe Islands Ki Kleasvik.
After losing to Zalgiris of Lithuania, Balkan faced in the second round with La Florita of San Marino, a team that defeated them with a score of 10-0 in both games. The hope is that Balkan will also eliminate Ki Kleasvik and thus reach the playoffs of the Conference League where they will meet the champion opponent on August 2.
The two Albanian teams from North Macedonia turned out to be better in these competitions. The champion of North Macedonia has already ensured the participation in the Conference League playoff as it will play in the third round of the Europa League where it will face Shamrock Rovers. If Skopje overcomes Shamrock, then they will secure participation in the groups for the Conference League but will fight to move to the Europa League groups as well.
Shkëndija is the other team from North Macedonia that has passed to the third round of the Conference League, after tonight they won with a total score of 5-2 against Valmeira of Latvia. Shkëndija will face KuPS of Finland in the third round and thus will wait for the next opponent in the playoffs in case they eliminate the Finns.
The 11th Albanian team is Decic's team from Tuzi, Montenegro, who were eliminated more difficult in the first round of the Conference League by Dinamo Minsk, Belarus. /Express newspaper/