Mickoski is surprised: After a long time he is hearing something sensible from Pendarovski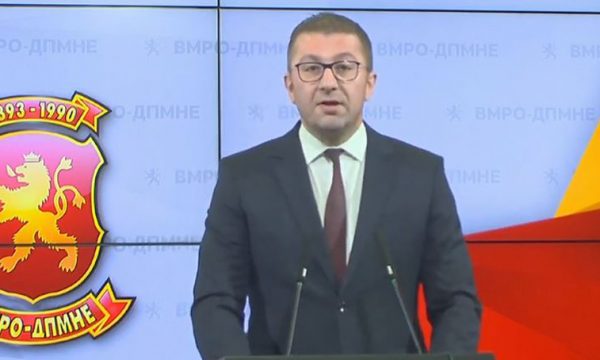 "I have to admit that for the first time after a long time we can be on the same wavelength with Pendarovski, in that direction I am also thinking of coming up with a wording of the question before the Executive Committee, but also before the citizens. But I expect that Pendarovski will then call the other political parties in Macedonia if this is the essence of the issue and go to the referendum", clarified the chairman of VMRO-DPMNE, Hristijan Mickoski from Kavadari, answering the question about Pendarovski's statement about the wording of the referendum question.
Mickoski added that he was pleasantly surprised by Pendarovski's attitude because he is positive about the referendum statement. And the referendum represents the highest act of democracy in a country.
Citizens must decide if they want to have a European future assimilated, Bulgarianized, under dictation, or proud, dignified, when the conditions are created for a European future in the near future. The European future and the desire of the citizens, but also of the political subjects, has never been questioned and there has been no dilemma, but only the path.
"Well, now, unfortunately, this criminal Government, in order to practically receive an international conditional amnesty for the crime it commits, has no problem selling and satisfying some bureaucrats in their demands. But I think we are moving in the right direction and this is what Pendarovski said in that direction, to give the citizens the opportunity to decide what their European future will be, if it is what has been offered by the SDSM government- and DUI, or proud and dignified", emphasized the chairman of VMRO-DPMNE.