"Let's save this country", Berisha: The incinerator affair will cost 700 million euros, it was stolen with a suitcase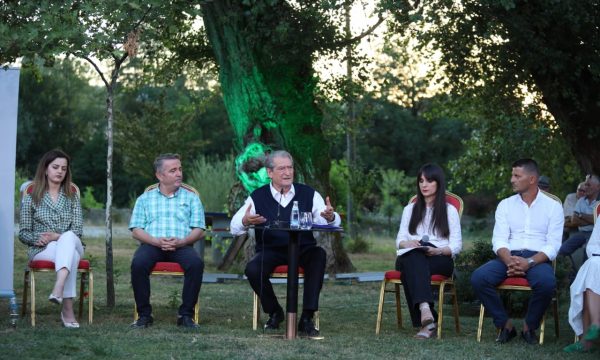 The head of the Democratic Party, Sali Berisha, has said that the estimate for the losses from the incinerator affair goes up to 700 million euros.
Meanwhile, during a meeting with supporters in Mirdita, Berisha said that all pensions in Albania could be doubled with this amount.
"You've heard of chili. It is not 420 million euros. The calculation is moving towards 700 million euros. And the chilies, apart from that 12 million euros in Elbasan, do not exist. They stole a suitcase. They seek to find ways of escape now, they remember that they will escape. With 700 million euros, all pensions in Albania were doubled. There is a greater crime than this. There are hundreds and thousands of pensioners who cannot get medical treatment, whose hand shakes when they buy food. And this one takes, disappears with his firm, with a closed, illegal procedure, hundreds and hundreds of millions of euros". Berisha said.
Berisha also said that when Albania is in danger, we must come out for God, this is a call to the Albanian people.
"All this is a call to us: To save this country. A deep appeal of the national conscience of every Albanian, we must part with this regime. Affairs are unimaginable. Only in the Port of Durrës is taking 1 million m2 of land with an Arab. Removes the port for theft. There is a 4-5 billion affair that will build Dubai City, will build the biggest theft pyramids in the Balkans and Europe there. The same with Butrint Park, a fabulous Park that does not exist anywhere in Europe. City with all that history. It takes a man who is registered to say that Albania is an artificial country. I've never read that, I've never read anyone saying that before us there was here. Why is Butrint given? Because Cape Stillos is magical, it is the most beautiful place on all the banks of the Ionian, to make villas for Edi Rama and his clientele. And all areas had to be separated, the city was left separately, for its own purposes.
It's time to stop, talk to everyone. When Albania is in danger, we must all come out. To work with those who are not yet convinced. These are true facts like the light of the sun that has no addition to them." he expressed.
/Rhewal