Kristos Armandos Gezos: Every creation, intentionally or unintentionally, is a protest against naturalization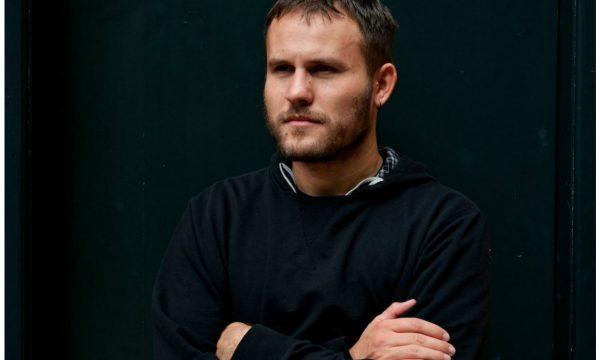 Spoke: Liridon Mulaj
The novel "Balta" is your first work translated into Albanian by the translator Eleana Zhako. You write in Greek while the novel comes in the language of your homeland. What does this mean to you Christo?
It's a very nice feeling. I left Albania when I was young and we spoke Greek at home, so I didn't manage to learn Albanian well either. In recent years, I have tried to learn Albanian by myself, so that I can read and translate from Albanian, but also communicate with people. "Balta" is my first novel and is directly related to Albania, so for these reasons, the publication in Albanian has a special importance for me.
There is a social chaos of the environment that is reflected in the inner chaos of the character. A nebula of experiences that splits to systematize points of view. Existentialism is still today the source of reflection and consequences. It is as if your novel is a protest against a socio-moral degradation. Does literature always do this?
Every creation, willy-nilly, is a protest against naturalization. Anything that contains movement, I would say. But, more specifically, to ponder the emptiness that awaits us all and ask yourself how you can slow it down or face it, serves this creative direction even more.
Emigration, being geographically and culturally foreign. Somewhere between the lines of your novel I read this sentence: "An uncle with a yellow, ravenous moustache, who swings like a pendulum along his walk to the cafe and unnecessarily and idiotically wastes his strength when he cites a child, come and play in your homeland , what are you doing here kalbanik"
Has something changed in the generations in terms of racism, or is this problem camouflaged among the thousands of problems of a globalist world that cannot find peace?
Emigration is a diachronic phenomenon in human history. Man always runs away from suffering and is looking for places where he can have a better life – and this is not only about places, but also about the state of mind. The world becomes ever more open and understands this need, it is more tolerant. Meanwhile, emigration continues and will continue to be a challenge, because it disturbs social balances.
In the novel "Balta" the regular order of the stages of life is ironized. Childhood, the holidays, the stress for the exams in the faculty, the diplomas, the fun afterwards which is justified due to the overload from the long period of studies. Career aspirations, order towards it, etc. A kind of existential circus, but somewhat banal. Although temporary, are these precisely the stages that give some meaning to life and barricade the slide towards nihilism?
Yes, this is the point of view of the protagonist, for whom everything that does not relate to the existential essence of life is false and temporary, inferior. Of course, this is also related to the fact that he has not managed to enjoy life in reality, resulting in a distorted judgment in many matters.
From a misunderstanding arises a deep human drama. The cause of a mental impasse with no way out. The character thinks he killed his father and carries this worry inside him for a long time. Are we the prey of a universal trap, heading towards it and why do we know it awaits us in the trap that is death. Is this misunderstanding the analogy of life?
Death is a powerful theme throughout my work. Its presence is constant, either as a reality, or as an image or vision, even as liberation, as reconciliation. But, in reality, death makes life very important for my heroes, so they also become sad and rebel.
The economic crisis of 2008 seemed to bend the Greek pride to some extent. As if economics prevailed over the big story. Did this crisis ultimately change the Greek individual's perception of himself?
True. Unfortunately, for several decades, the Greeks had become complacent, and generally speaking, when one does not become complacent, one does not mature. Greek society is still an immature society, which is gradually facing a harsh reality, but in the long term, it will do well. Think, for example, something very simple: now with the crisis (or crises, rather) and the expensiveness, everyone thinks carefully before going to the supermarket and understands how harsh and violent it is for a person. But I (and of course many others), this is how I grew up as a child, for decades this was my only reality.
Ismail Kadare claims that: "To write a good ending to the novel, you must be a poet." As a poet and prose writer at the same time, how much do you think poetry affects prose?
The first book I published was a poem. But before their publication, I had written a large number of stories and a novel, which I chose not to publish. I want to say that from my beginnings, both of these tendencies coexisted within me. The poet influences the way I write prose and the prose writer influences the way I write poetry. This is very valuable creatively, because it offers you a range of writing tools, but also spiritually, because it fulfills a variety of sentimental needs.
You are inspired by the idea of ​​the coexistence of your literary identities, rather in the sense of affirmation rather than identity meaning per se. Would you like to be considered already our writer in addition to Greece? Do you like this or not?
Nice question. I think that, from the moment I write in Greek, technically, I am first and foremost a Greek writer. Beyond that, on a deeper sentimental level, I wish that Albanian readers will like my book so much that they will want to consider me theirs. Moreover, the ultimate goal of anyone who writes is to be universal and of interest to all. /Express newspaper
/Rhewal