Keeping the former KLA leaders in custody, the Special Court is considered to be harsh with them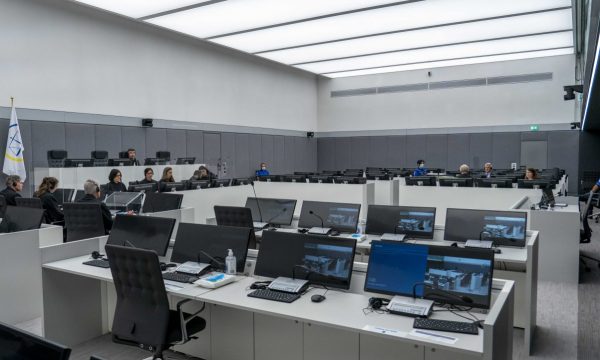 The Special Court in The Hague is being tougher than it should be in relation to the continuation of the measure of detention of the former leaders of the KLA.
This is how the Kosovo Institute for Justice assesses, while emphasizing that based on the facts, the judicial process against the former leaders of the KLA may start from September next year.
The measure of detention is set under certain conditions, when there is a reasonable suspicion that the persons who are in custody may influence witnesses, or in other circumstances, may not respond to the invitation for trial by the Court. This is what the director of the Kosovo Institute for Justice, Ehat Miftaraj, says for Radio Kosovo, who estimates that the Special Court is being harsh in relation to the former leaders of the KLA.
"Despite the fact that we are talking about criminal offenses which are very serious, the standards that promote the rights and freedoms of defendants in criminal proceedings require that this measure be set only in exceptional circumstances, since the persons being held in The Hague can be released by the criminal police, then the time spent in detention or deprivation of liberty is a measure that cannot be compensated later", he said.
Murtezaj said that the judicial process is going very slowly. According to him, it will take months until it is passed to the main review.
"The judges of the preliminary procedure have been much tougher with the prosecutor, demanding that the prosecution provide the file of the lawyers' side in order to pass the main examination. The defense still does not have the right time as the law defines, this year it is almost impossible to start the main review, this deadline can continue until September next year", Murtezaj added.
The university professor of Constitutional Law, Arsim Bajrami, tells Radio Kosovo that political pressure can be exerted on the court authorities to respect the legal rules, and in particular, enable a quick, fair and impartial trial.
"They are not only a violation of the Constitution and the legislation of Kosovo, but also a violation of the rights of the European Convention on Human Rights and International Criminal Law, from being detained without any need to violations of the procedure in the first place by preliminary judge", said Bajrami.
Otherwise, the lawyers of the former leaders of the KLA who are in custody in The Hague have requested that the accused be protected in freedom and for this they have addressed the Kosovo Police to offer guarantees. In the submissions of the special chief prosecutor, Jack Smith, it is claimed that there is a risk that the former members of the KLA will escape, influence witnesses or commit a crime, for which the detention measure has been extended.