Even Tirana is greeted by European competitions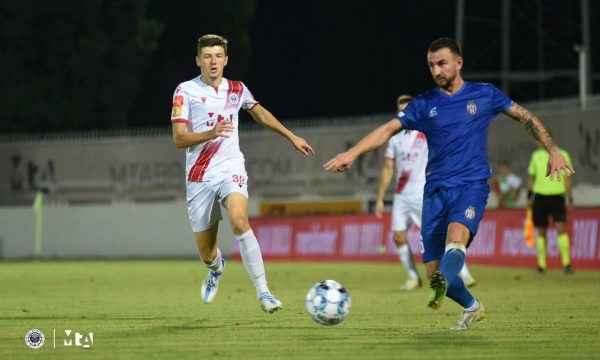 FC Tirana is the last Albanian team to be eliminated from European competitions. It is the champion of Bosnia and Herzegovina, Zrinjski of Mostar, who defeated the Albanian champion in the second round of the Conference League. Jankovic (25), Ticinovic (36) and Cuze (80) scored for Zrinjski. The goals for Tirana were scored by Ismajlgeci (51) and Xhixha (84).

The champion of Albania has ended their adventure in Europe after four games, where they were first eliminated by FC Dudelange in the Champions League, and today they also suffered a defeat by the champion team of Bosnia, Zrinjski of Mostar with a total score of 4-2. .
The first half was better for Zrinjski where they scored two goals.
First it was Jankovic (25) who scored a goal for Zrinjski for the first lead of this team. The locals would double their lead to 2-0 in the 36th minute, where Ticinovic would score this time.
The first half would end with this result.
In the second half, Tirana was better and managed to score a goal in the 51st minute.
It was team captain Marsel Ismajlgeci who scored the first goal for Tirana in this match.
Tirana in the following minutes was the best team and was able to equalize the result. However, in the 80th minute, Zrinjski would score another goal.
It was Cuze who would score after a quick counter attack by the Bosnian Croat side to make it 3-1.
Tirana reacted quickly and managed to score in the 84th minute, after a scramble in the area, Roland Xhixha was in the best position to score Tirana's second goal.
Tirana continued to be better on the field and risked the goal several times, but Zrinjski managed to save the result, thus eliminating the Albanian champion.
FC Tirana is the last club from the Superior of Albania to be eliminated from European competitions. Before Tirana from the League Conference, the Albanian teams of the Superior Category that have been eliminated are Partizani, Vllaznia and Laçi. /Express newspaper/