Drita is eliminated headlong from the League Conference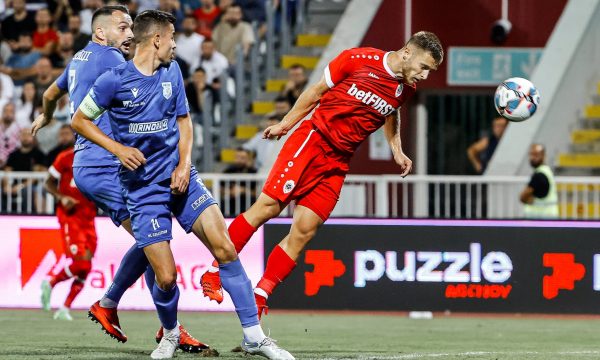 Drita e Gjilan made a performance to remember against Royal Antwerp of Belgium. This team had to wait 200 minutes to win this match until it was the Kosovar player, the talent of this team, Laurit Krasniqi who scored a goal for the Belgians to send this team to the third round of the League Conference
Drita e Gjilani has finished its adventure in the League Conference after a super performance this season as well.
While last year they were eliminated by the well-known team of Feynord, who were also finalists, this year they faced a strong team, this time the team from Belgium, Royal Antwerp.
The first half started more frantically for Drita, who took risks from the start.
However, the best chance in this match was the one in the 15th minute of this match by Simonovski, but it was the Belgian goalkeeper who saved his shot to deny the North Macedonian goal.
Antwerp were better in possession of the ball but they did not manage to threaten Malok's goal enough during the first half.
Drita during this part had four attempts to score a goal, while Antwerp had seven. Out of four shots of Drita, two were inside the goal frame, while out of seven of Antwerp, four endangered goalkeeper Maloku.
The possession of the ball was 63 percent in favor of the guests and 37 percent in favor of the Kosovar team.
The end of the first half was without many chances, except for a quick exit by Krasniqi, but the Belgians were attentive and managed to avoid the danger.
So the first half ended with a score of 0-0, with Drita having the best chances to score.
In the second half, Royal started better and managed to break the defense of Drita in the 52nd minute of the match.
Benson made a good cross in the area and there he found Laurit Krasniqi who, despite being the shortest, managed to score a goal to give the away team the lead.
After this goal, Drita was better, but the Belgians managed to manage the game properly.
It was an extremely anxious seven extra minutes and where the Kosovo Superliga team continued to be good.
And this was used by Antwerp who would score a goal in the 8th extra minute of the match through Balikwisha, to double the lead.
In the end, Drita is eliminated from the League Conference with four very good matches./GazetaExpress/