Covid today, 3 loss of life and 1228 new cases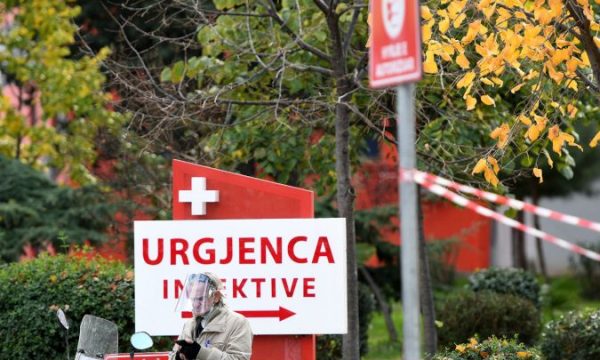 The number of deaths from Covid-19 has remained high in the last 24 hours. Three citizens have lost their lives from the virus, while 1228 new cases have been registered.
We remind you that 3 deaths from Covid and 1261 new cases were reported yesterday.
Ministry of Health announcement:
We inform you about the situation in the last 24 hours, as follows: 2738 tests have been carried out, of which 1228 citizens have tested positive for COVID19, in these municipalities:
444 in Tirana, 71 in Durrës, 60 in Lushnje, 57 in Fier, 45 in Vlorë, 43 in Kamëz, 33 in Saranda, 32 in Shkodër, 27 in Elbasan, 25 in Lezhë, out of 24 citizens in Divjakë, Korçë, out of 21 citizens in Himare, Gjirokastër, Kuçovo, 17 in Berat, out of 16 citizens in Pogradec, Devoll, out of 14 citizens in Kurbin, Dimal, 13 in Patos, out of 12 citizens in Krujë, Vorë, out of 11 citizens in Tepelën, Librazhd, out of 10 citizens in Kavajë, Mallakastër, from 8 citizens in Pukë, Tropoja, Mirdite, from 7 citizens in Bulqiza, Selenica, from 6 citizens in Dibër, Roskovec, Delvinë, Maliq, Peqin, from 5 citizens in Kukës, Has, Përmet, Skrapar, Gramsh, from 4 citizens in Vau i Dejës, Malësi e Madhe, Prrenjas, from 3 citizens in Fushë Arrëz, Shijak, Rrogozhinë, Mat, Kolonje, from 1 citizen in Konispol, Këlcyrë, Cerrik, Belsh.
There are 9,168 active citizens with Covid19 throughout the country.
Currently, 32 patients are receiving treatment at the COVID3 hospital. In the last 24 hours there have been three deaths with Sars-Cov2: a 64-year-old citizen from Fier, a 77-year-old citizen from Kavaja, an 88-year-old citizen from Tirana.
1,232 citizens have recovered during the last 24 hours, bringing the number of recoveries to 296,572 since the beginning of the epidemic.
Statistics (July 28, 2022)
1228 new daily cases
Healed in 24 hours 1232
Hospitalized 32
Loss of life in 24 hours 3
2738 daily tests
Total witnesses 1,911,914
Positive cases 309,278
Recovered cases 296,572
Active Cases 9,168
Loss of life 3,538
Geographical distribution of active cases by counties:
Tirana 5,123
Durrës 631
Iron 749
Vlora 466
Elbasan 464
Shkodër 383
Weight 362
Lezha 289
Korça 267
Gjirokastra 202
Diber 156
Kukës 76