Alibeaj asks Nikola for a debate in the parliamentary session, Berisha: The monist parliament is obstructing our right to debate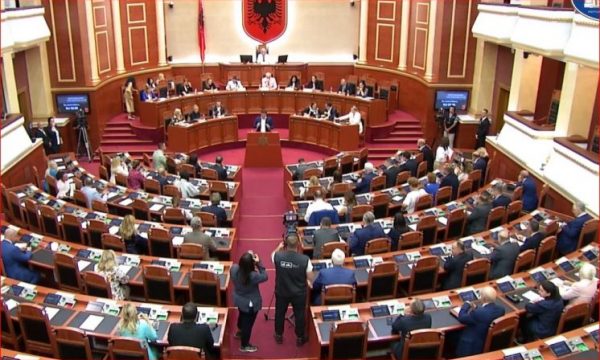 The chairman of the democratic parliamentary group, Enkelejd Alibeaj, has requested that the session of changes in the government, which is being held in the parliament, be accompanied by a debate.
"Madam president, it's been 3 days since I submitted a request for the session to be held with a debate. You are there to enforce the constitution and enforce the right of MPs to leave. What will be discussed today is the dismissal and appointment of ministers. They are not defensive players, they are people who receive the ball, which is the destiny of Albanians. You cannot take away the right of Albanians to understand who is governing them.
Now, in this session, it is appropriate that you return the parliament to the deputies, the Albanians. Let's examine the first acts of the new president of the Republic.
You called me yesterday at the dot of the morning, unbroken, about a request that came yesterday from the file authority. I said very well.
Whereas today, on the most important issue, the control of the deputies, you take away our right to speak. Everyone knows that the government is private. If even the parliament becomes private, this is intolerable"Alibeaj said.
Also, the chairman of the Democratic Party, Sali Berisha, during the plenary session, asked the Speaker of the Assembly to allow the deputies to hold a debate on the changes in the government.
According to him, the only reason why debate is not allowed in the Assembly is that Rama is afraid of free speech and the evidence that the deputies will present during their speeches.
He warned Rama that he can obstruct the trial in the plenary session, but he will not obstruct it on the streets of Albania.
"The decision to violate the regulation of the parliament, which guarantees the debate on the composition of the Council of Ministers, is an unprecedented act, a flagrant violation of the right of the deputy. It is a decision which is taken in the framework of complete monism imposed by the majority of drugs and crime. On this occasion, I say to Rama that whatever kind of jacket you wear, nothing will make you look like a thief. You want to take away the right of speech from the deputies in case they will prove to the Albanians that the godfather of Arben Ahmetaj is named Tenderbegu Edi Rama. Madam open the debate. Don't think Rama that escaping the trial in the parliament will escape the trial in the streets of Albania", said Berisha.
/Rhewal