Spahiu: The Agreement on the Monastery and the Association according to the Constitution must be implemented, the USA also demands it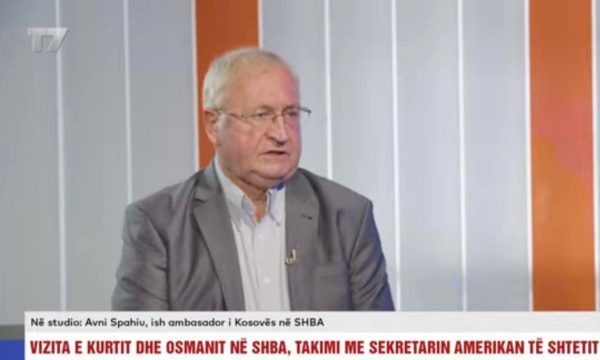 The former ambassador of Kosovo to the United States of America, Avni Spahiu, was invited to the show "Frontal" of t7, where he spoke about Osmani Kurti's meeting yesterday with the American Secretary of State, Antony Blinken.
He said that this meeting is a very good and very important news "that comes at a good moment", since according to him, a belief was created that the relations between the countries have stalled.
Spahiu also spoke about the implementation of some agreements by Kosovo.
"It was a matter of dialogue, the secretary of state repeated once again that mutual recognition is at the center of dialogue. The USA supports this process and wants Kosovo to play a constructive role. On the other hand, it is the implementation of some of the obligations that Kosovo has received in the past, which the USA wants to implement, namely for the Association, and of course we have the decision of the Constitution and we must work in that direction", stated Spahiu in Frontal.
He said that after the meeting with Blinken, these agreements should be implemented.
"Taking the matter of the Deçan monastery is something that the Constitutional Court has decided, and I don't see how we can avoid the implementation of this agreement, and this is precisely what the Secretary of State was talking about. But also other issues, including the association of municipalities, which already has the support of our Constitutional Court to be without executive powers, but which must be worked on in this direction", said Spahiu.
The former ambassador said that "Serbia has not implemented any of the points of the agreements, as it is seen, it will not implement even the last one for energy because things are dragging on". /Express newspaper/