Kurti says that MCC is giving a grant of 236 million dollars, he forgets that he has to take out of his pocket 34 million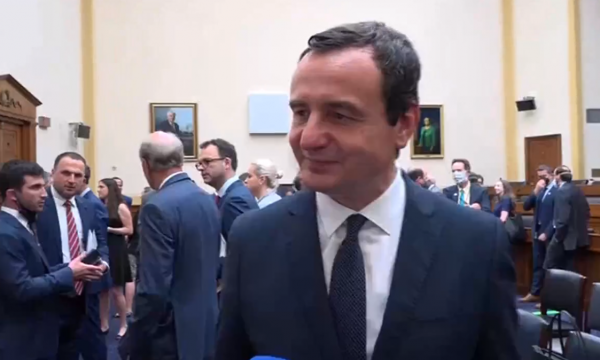 After the signing of Kosovo's agreement with the MCC in Washington, Prime Minister Albin Kurti appeared in a short statement from Washington through the public broadcaster, where he insisted that from the agreement, Kosovo benefits from a $236.7 million grant.
"The Minister of Economy, Artane Rizvanolli, and the leader of the MCC, Ms. Albright, signed today, which will bring Kosovo a 236.7 million dollar grant. So it's not about a loan, it's about a grant. We are very happy, very happy", said Prime Minister Kurti.
However, according to the agreement, MCC will finance with 202 million dollars for Kosovo to improve its energy situation, while it falls to the Government to take out 34 million dollars from the purse, so that the 236 million dollar project is finalized.
Even more, Kosovo will have its tasks defined by the MCC, within the framework of the agreement.
The report states that Kosovo should build a wide legal infrastructure to enable the implementation of this project.
"Kosovo needs to complete the legal and administrative steps for defining battery storage systems. Then energy policy and the determination of potential ownership structures as well as the implementation of a program for vulnerable customers to ensure that lower means-tested income", the report states, among other things.
MCC, in the announcement that was published on the website of the American Congress, correctly wrote the specific reforms that the Government of Kosovo should undertake to get the batteries where "where the current is conserved".
The specific reforms that the Government of Kosovo should undertake include: Passing relevant laws and reforms that will push the market introduction of independent renewable energy generators; completion of legal and administrative steps for determining battery storage systems in Kosovo; energy policy and determining potential ownership structures; and Implementing a program for vulnerable customers to provide them with financial assistance to access more affordable energy
The MCC report also provides other details. It shows that Kosovo has the lowest employment rate of women, below 15 percent. And that general unemployment is over 25 percent, while inactivity in the market exceeds 60 percent. /Express newspaper