Kastrati in favor of the Open Balkans: Neighbors are dealing with big projects, we are still having coffee chats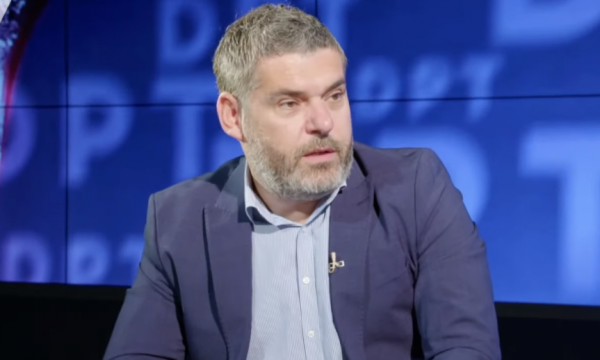 The deputy of PDK, Ardian Kastrati, said in the DPT show to Fidani in T7 that Kosovo should ask questions regarding the launch of the Open Balkans. Kastrati says that if Kosovo receives guarantees, then it should be included in this initiative.
He accuses the political class, saying that they engage in small talk, as he adds that neighboring countries are doing big projects.
"We still deal with some topics that have been raised over time such as demarcation, Kulla, Zhlepi and others. Serbia is receiving investments. Turkey, Italy, America and a little bit of everything. Let's not talk about Vucic's two-chair game. On the other side, Albania with the TAP gas pipeline. American base in Kuçove, ports and airports. Now the EU candidacy and the resolution against Dick Marty. We are dealing with small talk here. So on one side "big projects" while on the other side we chat over coffee. This is because of the political groups that have led", he said.
"No one is saying that let's go tomorrow to enter the Balkan Open, but the way we are barricaded in Prishtina is what Vucic did, the other one did. I am giving my opinion", he adds.
He further said that this is not a Serbian project. When asked about this, he said that it is banal to think so.
"Don't do anything. No way. This is very trite. Before entering into a project, every political party must look at what is reasonable. Edi Rama is eclipsing these. On the way out and in presentations. You have to go to Open Balkan and say 'hello, we have some questions'. Besnik Bislimi is going to forums every day where there are also Serbian officials. Then one must ask what is the guarantee that Russia has no influence. Because we can't choose our neighbors. Serbia is what it is. You get the answers and at that moment if you don't like Kosovo, you tell them that it is not coming. They have found a way to barricade themselves in Pristina", he added.
"I think that this kind of dynamic will precede the process. A few questions must be asked. If the answers are as guaranteed. By receiving these guarantees, yes. These are discussed and guarantees are obtained. We don't even just enter. To be opposed for the electorate", he concludes. /Express newspaper/