Blinken's meeting with Kurti and Osmani, the Serbian medium: Washington took some orders to Belgrade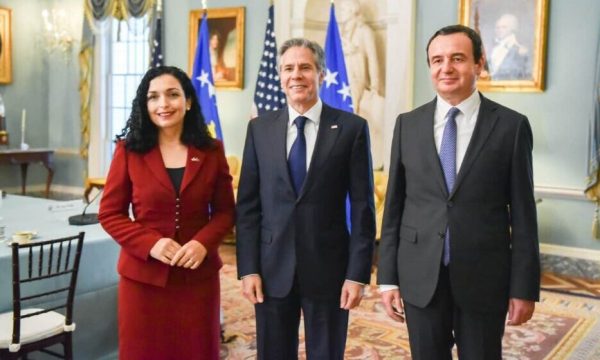 The Serbian newspaper "Danas" has devoted an article to yesterday's meeting in Washington between the Secretary of State, Antony Blinken, and the leaders of Kosovo, President Vjosa Osmani and Prime Minister Albin Kurti. According to the sources of this newspaper, yesterday's development in Washington sent several messages to Serbia as well, Express reports.
"The US chose such a moment for the visit as a need to confirm its presence in the region, now that there is talk about the security risk as a result of Russian influence in some parts of the Western Balkans, especially in Serbia, which seems that it is being delayed or maybe it doesn't even want to respect the West's policy regarding sanctions and the conflict in Ukraine, therefore it is very important for the US to strengthen cooperation with Kosovo", these sources told Danas.
This source of Danas said that what is the result of this meeting can be seen in two aspects, in the strengthening of Kosovo's energy independence, that is, that there will be a smaller need for importing electricity from Serbia and the other, political support for Kosovo's membership in international organizations.
"With the expansion of Kosovo's energy capacities thanks to investments from the USA, in the future the needs for energy capacities from Serbia will be significantly reduced", said this associate of "Danas".
The second aspect of the meeting is the political one, which means that the US has sent an even clearer message that it will not neglect this region and that it knows very well who its allies are, but also who leaves from their positions.
"To emphasize that the USA offers support for the international integration of Kosovo, practically means confirmation that the moratorium from the Washington Agreement, for which Prishtina was committed that it would not lobby for a year, has expired", added this source for "Danas"
"Blinken indirectly gave the green light to Kosovo to continue with requests for membership in international organizations and Prishtina will now feel encouraged to seek a seat in the Council of Europe", concluded this source for "Danas"/Express/