Passing through the Peljeski Bridge will be free of charge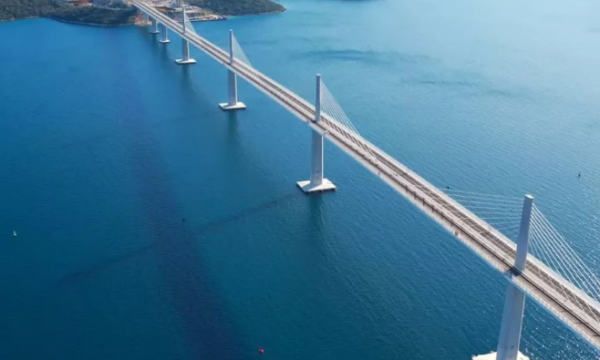 In Croatia, the Pelješku Bridge, the largest infrastructure project, the construction of which was financed by almost 80 percent from the European Union, will be opened for traffic today.
The bridge is part of the "road connection with southern Dalmatia" project and represents the most important geostrategic project of national interest, because its construction established the territorial continuity of the Croatian territory, reports N1. The total value of the project is estimated at 420.3 million euros and includes the construction of a bridge, access road and a bypass near Ston.
The Peljeski Bridge is one of the five largest European bridges across sea bays that were built at the beginning of the 21st century and is world class, and the biggest challenge was the design of the foundation, as it is exposed to the winds and is located in a seismic zone. The Pelješku Bridge, which connects the south of Croatia with the rest of the country, is important not only for Croatia, but also for the wider European area.
The bridge will significantly facilitate and accelerate the arrival of tourists in the Western Balkans, and the opening of this magnificent bridge was welcomed by many people in the region. What is important to note is that crossing the bridge will be free.