Kurti Blinkenit: We have engaged constructively and creatively in the dialogue with Serbia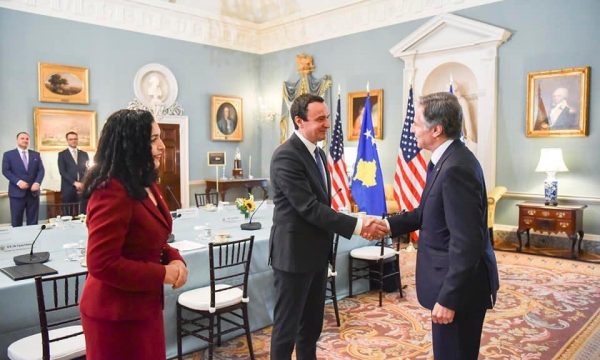 The head of the Government of Kosovo, Albin Kurti, has published a statement on his profile after the meeting with the American Secretary, Antony Blinken.
Kurti has shown that they talked about internal developments and governance, Russia as a threat and Kosovo's aspirations for Euro-Atlantic integration.
The Prime Minister also announced that in the meeting they talked about the dialogue work with Serbia and emphasized that Kosovo is committed to a legally binding agreement focused on mutual recognition.
Kurti also said that they informed Blinken of the fact that Kosovo is being constructive and creative in the negotiations.
Full Notice:
Together with President Osmani, accompanied by our ambassador to the United States of America, Ilir Dugolli, we met today with the American Secretary of State, Antony Blinken.
With Secretary Blinken, we discussed good governance, the fight against crime and corruption, economic development and social support as a response to the needs of the citizens of the Republic. We emphasized our excellent bilateral state relations and the opportunities for their advancement, especially in the economic plane with more investments and in the commercial plane with more exchanges. We also discussed the democratization of the region and the strengthening of value and political alliances to face the influences and dangers that threaten the Western Balkans. Kosovo's membership in NATO's Partnership for Peace Program and the development of Kosovo's defense and security capabilities and capacities would contribute to sustainable peace and long-term stability in the entire region.
At the meeting, we confirmed that the Republic of Kosovo is committed to reaching a legally binding agreement centered on mutual recognition between Kosovo and Serbia and that so far we have engaged constructively and creatively in the dialogue process.
The relations between our countries and peoples are currently strong and historically deep. We stand side by side because we are friends, partners and allies.