In permanent friendship with America, Osmani publishes the photographs after the meeting with Blinken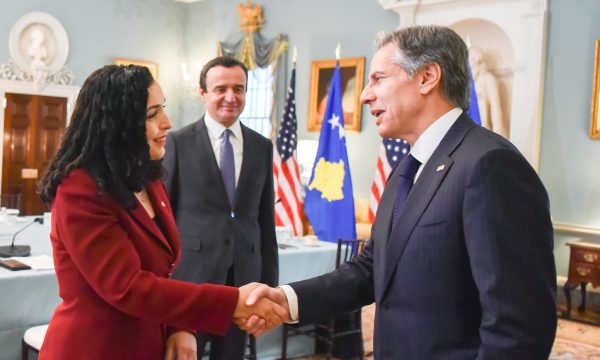 The President of Kosovo, Vjosa Osmani, has published a photo with the American secretary of Sheti with Antony Blinken, in Washington DC. In the photo, the Prime Minister of Kosovo, Albin Kurti, is also present.
Osmani wrote on Facebook: "In permanent friendship with the United States of America".
Before that, the president has shown what they discussed with the American secretary. He also mentioned the Kosovo-Serbia dialogue.
"We talked about how Kosovo can be a member of NATO and the partnership for peace. We also talked about the details of the dialogue with Serbia", said Osmani. "You know that the US is a supporter of Kosovo and territorial sovereignty, but Blinken and Biden have been clear that territorial integrity should not be affected and that the dialogue should be focused on mutual recognition," she said.
During this visit to the USA, the Minister of Economy, Artane Rizvanolli is also participating. There, Kosovo has signed a 236 million contract for energy transformation with the Millennium Challenge Corporation (MCC).
In the Kosovar opinion, Prime Minister Kurti has often been criticized for rejecting that agreement, saying that "it is affecting the relations with the USA". /Express