Fierce confrontation of candidates for prime minister of Britain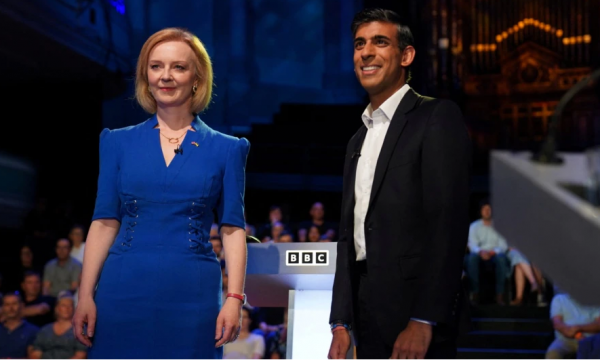 Rishi Sunak and Lizz Truss have gone head-to-head over the future of the British economy in their first televised debate.
The former British Secretary of the Treasury and the British Foreign Minister are competing for the position of the chairman of the Conservative Party, a position that automatically enables the position of prime minister, after the resignation of Boris Johnson weeks ago.
Sunak told Truss that her tax plan "will leave millions of people in misery" and something like that will weigh on the Conservative Party in the next election.
Truss has said that the tax hike, Sunak's decision, will lead to recession.
The two contestants – who were in the same cabinet until three weeks ago – have sometimes had very harsh attitudes towards each other.
After the debate, Truss supporters complained that Sunak had been too aggressive towards her, something the Sunak camp has denied.
However, both have softened their tones at the end of the debate.
Truss has said she would like to have Sunak on her team if she becomes prime minister.
Sunak, on the other hand, has praised Trussi's attitude towards Russia.
Both contenders will campaign in the coming weeks to win over the Conservative Party's roughly 180,000 eligible voters.
The winner of the election will be announced on September 5.
Johnson, who resigned on July 7, after several months of ethical scandals, continues to be at the head of the British Government, until his successor is chosen./REL