Russia: The attack on the Odesa port should not affect grain exports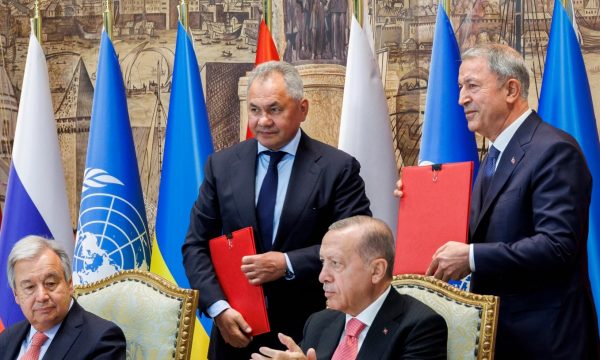 Russian authorities said on Monday that a missile attack by its troops on the Ukrainian port of Odesa should not affect a deal to resume grain exports.
Kremlin spokesman Dmitry Peskov said the missiles hit only military infrastructure and not that used for grain exports.
Russia initially denied involvement in Saturday's attack, but on Sunday changed its position and said its troops were responsible.
Ukrainian officials have announced that they are continuing with efforts to resume the export of grain, based on the agreement signed by Kiev and Moscow in Istanbul.
The United Nations and Turkey mediated the agreement, according to which the Russian fleet in the Black Sea must be allowed safe passage through areas that Moscow has blockaded since the start of the attack on Ukraine in late February.
The agreement was hailed as an important step towards easing a global food crisis. UN Secretary General Antonio Guterres called it "a beacon of hope, opportunity and relief".
Ukrainian President Volodymyr Zelenskyy criticized Russia after the Odesa port attack, saying it jeopardized the grain deal.
In his reaction, US Secretary of State Antony Blinken said that the attack "casts serious doubt on the credibility of Russia's commitment to the agreement and undermines the work of the UN, Ukraine and Turkey to send vital food products to international markets". VOA