PAMJE/ From sex in the cemetery to the final escape, how the 21-year-old was killed by Elvis Demçe's friends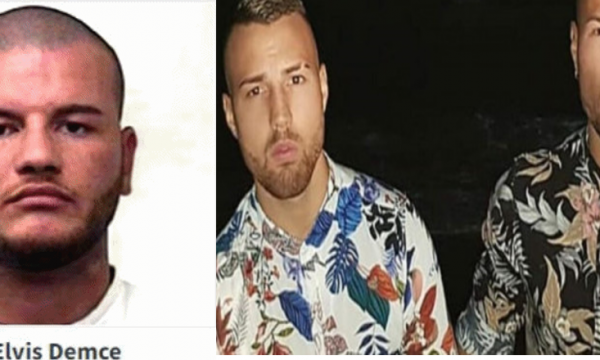 Marco and Gabriele Bianchi are regarded as two of the most feared names in the world of crime in Rome, linked to the Albanian Elvis Demçe and the "Diabolik" clan.
More than "simple" thugs, brothers Marco and Gabriele Bianchi, sentenced to life imprisonment for the murder of Willy Monteiro Duarte, had a growing reputation in criminal circles.
La Repubblica has published the movements of the killers and their friends second by second.
"Willie lay on the ground, kicked and punched as he breathed on his own for 50 seconds before he died."
It's a chilling image described by prosecutor Giovanni Taglialatela during his indictment in the trial that led to the life sentences of the Bianchi brothers.
Francesco Belleggia was sentenced to 24 years and Mario Pincarelli to 21 years.
To tell the story of that night of violence and madness, between September 5 and 6, 2020, there are not only many witnesses, interceptions and consultations. There is also footage captured by surveillance cameras in Colleferro. The Carabinieri have analyzed them and you can even see the faces of the "twins", as the Bianchi brothers were called for their resemblance.
The result is a horror film.
The fate of 21-year-old Willi from Paliano was irrevocably sealed when on September 6, 2020, the two martial arts experts and their friends arrived in Colleferro. The cameras have filmed the arrival of an Audi Q7.
The SUV is parked in Carpinetana. The Bianchi brothers and their friend Vittorio Tondinelli are seen.
The brothers and Tondinelli suddenly meet three girls and decide to leave. At 2.19 a camera films them as they are on their way to pick up the SUV. The "twins" are with two very young girls, a blonde and a brunette, and Tondinelli follows them with a girl in a long dress with a slit on her left leg.
They leave and go to the cemetery, where they are going to stay and have sex, until friends Omar Shabani and Michele Cerquozzi call them asking them to go back to the nightlife area, where Belleggia is arguing with Zurma and other guys from Colleferro .
At 03:19, on the same road, the camera records footage of the SUV turning around.
At 3.23 am they arrive at Piazza Buozzi where the discussion is taking place. The cameras do not film the area near the former "Smile" bar, where Willy will be massacred in a few seconds.
At 3.26, the 21-year-old is motionless on the ground and the Bianchi brothers running to jump on the Audi and escape to Artena. At 03:47, the arrival of the ambulance is recorded, trying in vain to save Willy's life.
The last image was recorded at 04:01. Two young men run in the middle of the road. They are running away and one is Pincarelli. A movie actually. From those who would never want to see./Abcnews.al