He took his son to "Zhan Mitrev" for recovery, took him in a coffin, the mother from Gjakova sues the hospital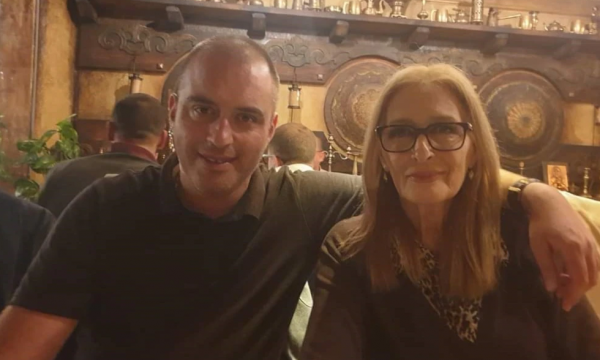 "I sent the boy to the 'Zhan Mitrev' hospital, in October last year, on his own feet. Not in a critical condition. And I had to take him in the coffin".
This is how Sanija Gjakova, a woman from Pristina, who is among at least eight other families who have filed criminal charges against the private cardiac surgery hospital, "Zhan Mitrev", in Skopje, North Macedonia, begins her story for Radio Free Europe. , after the death of their relatives.
Sanija's son, Edoni, 43 years old, died in December of last year, after, as his mother says, a treatment of about two months at "Zhan Mitrev".
This hospital has made headlines this week, after the Public Prosecutor's Office of North Macedonia launched an investigation against it, under suspicion of inadequate treatment of dozens of patients who died, including some with the disease COVID-19.
The investigations have started after the network of investigative journalism, IRL, broadcast on July 18 a show entitled "Dirty Blood".
According to this research, it is suspected that the patients who suffered underwent blood filtration as part of an experiment.
This treatment, according to IRL, has infected dozens of patients "with deadly bacteria", while the hospital applied it without permission from the state Agency for Medicines and Medical Devices.
"The cases we have worked on are based on 24 family tragedies", said journalist Sashka Cvetkovska, part of the research group. The cases we have worked on are based on 24 family tragedies" Sashka Cvetkovska
In the first reaction, the hospital has rejected the accusations, saying that they are "fabricated" to create "a false image".
IRL has confirmed for Radio Free Europe that the case of Edon Gjakova from Kosovo is included in their research report "Dirty Blood".
Edoni is infected with bacteria, says the mother
Edon's mother, Sanija, says that her son had regular annual check-ups at the "Zhan Mitrev" hospital, after he suffered a cardiac arrest 13 years earlier.
In October of last year, she recalls, Edoni sought medical help at the hospital in Skopje, due to some abdominal discomfort.
Several days passed until she underwent various checks and treatments, which, as she says, she financed herself with thousands of euros.
"After the laparoscopy, Edoni's condition has started to deteriorate. I asked the doctor why he is coughing… He told me that he is lying down…", says Sanija.
According to his mother, Edoni performed this medical check-up in mid-November. The doctors, she says, have told her that they suspect that the patient has "inflammation of the colon".
His condition continued to worsen and, on December 13, after the confirmation received from the family, the doctors at "Zhan Mitrev" decided to treat Edoni with blood filtration – after which Edoni died.
His mother suspects he contracted deadly bacteria, which she says she heard was circulating in the hospital at the time.
She says that her suspicions grew even more when, after Edon's death, she saw that it was written in the hospital report that this institution "treated the deceased well and his family will not sue him for anything".
After the insistence of the family, says Sanija, the hospital removed this sentence from the report.
In April of this year, the Gjakova family, through the lawyer from Skopje, Asmir Alispahiq, filed a criminal complaint against the employees of the "Zhan Mitrev" hospital for inadequate treatment of Edon. Based on what we have as evidence, we have indications that it is for the use of unclean medical instruments" Asmir Alispahiq
"Based on what we have as evidence, we have indications that it is about the use of unclean medical instruments [gjatë trajtimit të Edonit]", lawyer Alispahiq says to Radio Free Europe, without providing many details.
"The hospital authorities have drafted the medical documentation in such a way that the injured parties do not have the opportunity to be informed about the reason that led to the patient's death", says Alispahiq and adds that for this case, he also informed the research network, IRL.
After the broadcast of this network's research, other citizens of North Macedonia have come out and have warned of legal steps against the "Zhan Mitrev" hospital.
"Doctors gave me conflicting information"
One of them is Valentin Allchev, 43 years old, from the city of Veles, whose mother, 72 years old, died in "Zhan Mitrev" hospital in January of this year.
Speaking for Radio Free Europe, he says that during his mother's several-day stay in the hospital, he was confronted with conflicting information from the doctors themselves.
"The doctors on the phone told me one thing, and when I went to visit, they told me something else."
"I asked them for the blood results, but they did not give me them. One doctor told me that the mother's leukocyte count has increased… The other doctor told me that the mother has bacteria in her blood. "Valentin Allchev
"I asked how he got that bacteria in hospital conditions… They told me that there is a possibility through the placement of the intubation tube", says Valentini.
Suspicious, according to him, is the fact that in the release sheet given to him by the hospital, after the mother's death, it is not mentioned anywhere that the patient had bacteria.
"I received the letter after three weeks, it doesn't say anywhere that there was bacteria, but only that he was treated for COVID-19", says Valentini.
What do they say about "Zhan Mitrev"?
From the "Zhan Mitrev" hospital, they tell Radio Evropa e Lire that all patients receive complete discharge sheets, where all treatments, medications and treatment procedures are listed, but they do not comment on individual cases.
They add that they cooperate with the institutions and that they will provide everything that is required of them.
Institutions require more time for investigations
The medical or institutional responsibility in the case of "Zhan Mitrev" hospital has not currently been determined.
The Minister of Health of North Macedonia, Bekim Sali, asked for more time to investigate the case and obtain concrete information.
In a press conference, held on Wednesday in Skopje, Sali did not give concrete answers on the claims about the experiment, nor on the use of the blood filtration method, which is applied to patients with serious diseases and is allowed for patients with COVID- 19.
He said that during the COVID-19 pandemic, no health system used evidence-based treatments. According to him, "treatments are based only on recommendations".
There are still no results from the inspection of the Agency for Medicines and Medical Devices of North Macedonia, which must ascertain whether the procedure of clinical tests of blood purification has been followed or not.
"It is logical to give some time to determine everything according to protocols, regulations and laws", said Lirim Shabani, director of this agency.
IRL journalist Sashka Cvetkovska, who investigated the case, says she hopes, as does the public, that the institutions will solve it.
"I would be very disappointed if this doesn't happen," Cvetkovska tells Radio Free Europe.
What did previous inspections show?
In the last three years, the State Sanitary Inspectorate of North Macedonia has carried out 45 regular inspections and 52 extraordinary inspections in 12 private health institutions.
The details were announced by director Irinka Sotirovska Buhova, who said that at "Zhan Mitrev" three regular and nine extraordinary checks were carried out – five of which for reporting treatment outside the protocol. But, according to her, after the inspection, these deficiencies have been remedied.