Eleven nights of food, music and entertainment at the "Prishtina Gastronomy Festival"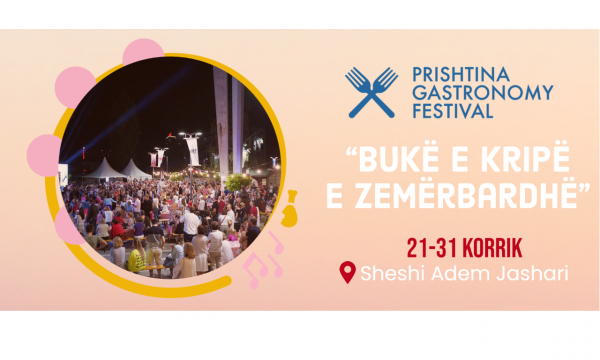 A warm summer atmosphere, under the sound of Albanian music and super food, is waiting for you to come with your family, friends, company, and colleagues to the Festival of Gastronomy in Pristina.
Full eleven days and nights, starting from July 21 to 31, will be filled with activities that connect everything that makes a person happy, food – music – entertainment.
The motto "Bread and salt and white blood" fulfilled with the program, I will make the Albanian tradition felt in every corner of the festival, with traditional foods such as flijat and kebabs, with Albanian music, both from Pristina, Dukagjin, Tirana, and Vlorës, not forgetting Arbëresh melodies from Italy.
You will feel the national unity like never before, with Vlora raising the flag in Pristina, and Tirana singing to its fellow citizens in the heart of Pristina, and under the Struga breeze you will be able to sing Korça serenades.
Ten plus one, yes fixed eleven days and nights, in the "Adem Jashari" square in Prishtina, there will be a union of Albanians from all our lands, there will be a connection of the rich Albanian cultures among themselves, but not only. During the entire festival, in addition to the traditional ones, there will also be modern, international foods, special dishes from well-known Italian and Turkish chefs. So each of you and us will have the opportunity to try a variety of food cultures, and enjoy them with drinks.
The dishes presented, the variety of products, the music masters, as well as the participation of people of all ages make this festival special and unforgettable.
The opening of the Festival will be done by the Mayor of Pristina Mr. Progress Rama and the Mayor of Tirana Mr. Erion Veliaj.
Prishtina Gastronomy Festival will be held from July 21 to 31 in "Adem Jashari" square in Pristina, starting from 17:00 to 23:00. While tickets go on sale today from 13:00.
Attached below is the music program. And soon we will present the food program.