What do the latest measurements of public opinion say, according to Blerta Deli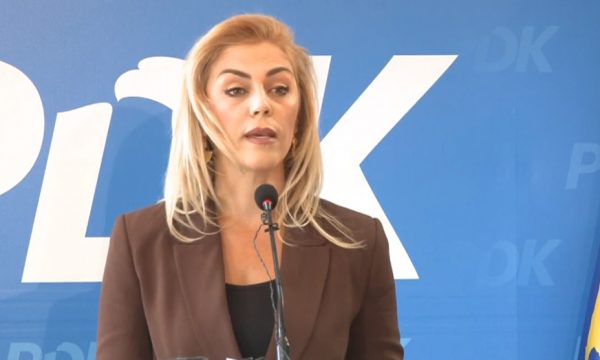 PDK deputy, Blerta Deliu-Kodra, has said that the country's foreign policy is dysfunctional and anemic, despite numerous visits abroad by institutional leaders.
She says that she has not seen anything concrete from these visits, in the sense of Kosovo's membership in international organizations and new recognition. The opposition deputy also criticizes Prime Minister Albin Kurti for the economic crisis, for which she says that there is a decrease in the popularity of the citizens towards him.
"With the exception of Kosovo's application to the Council of Europe, we have not seen anything regarding the activity of the president and the Government of Kosovo, the prime minister and the foreign minister to strengthen Kosovo and its foreign policy. There is no new membership of Kosovo in any international organization, there is no new news from the recent visits of high state officials. There is no reconfirmation or recognition of Kosovo by a state. In general, I am saying that Kosovo's foreign policy continues to be anemic, it continues to be non-functional in the sense that it would be necessary for Kosovo to make this contribution", said Deliu-Kodra.
According to her, based on the latest measurements of public opinion, the decline in popularity among citizens of Prime Minister Albin Kurti is clearly visible.
"There is a decrease in the popularity of the Prime Minister in relation to the issues that he advocated, which were the issues of economic development and issues that affect the well-being of the citizens of Kosovo. So the situation is not easy, we have difficult lives of the citizens, we have high prices, we have the price of electricity which will affect the citizens during the autumn season. We have a government, despite this situation, there is no salary increase and no serious support for the citizens of Kosovo", she declares.
Deliu-Kodra listed the criticisms regarding the Kosovo-Serbia dialogue, which according to her, has returned to a technical dialogue.
"Recently, we have the return of dialogue in some of the agreements that have been unenforceable until now. But in accordance with these, we must have an escalation, a more pronounced agenda of the government in terms of dialogue. You know that it is an important prerequisite, not only for the international empowerment of Kosovo, but also for the final agreement, mutual recognition and for the empowerment of Kosovo in terms of economic development, but also processes that Kosovo already needs very much. I consider that we need a greater attention of the government in this matter", she says.
Meanwhile, the MP expressed optimism that the liberalization of visas for the citizens of Kosovo can happen under the Czech presidency, during 2022.
"It is about the credibility of the European Union as an important institution, and free movement is a prerequisite for us to restore and strengthen our trust in the European Union. Kosovo has fulfilled the criteria, I expect that it will be reconformed once again so that the seriousness of the EU in relation to Kosovo is as clear as possible and I expect that under the Czech presidency we will have the main news, which is free movement", she concluded. . /KP