Weather forecast for the coming week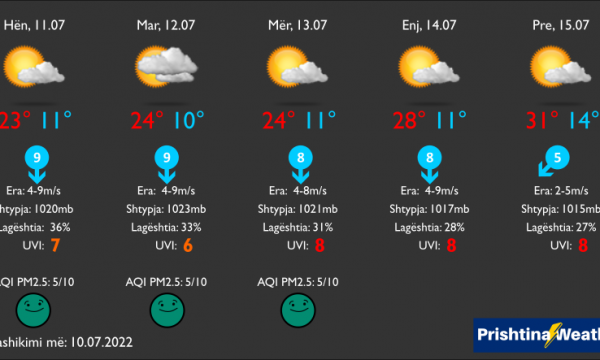 Stable weather during the following week, with sun and passing clouds. Initially not very warm, in the second part hotter, with temperatures above 30C, predicts "Prishtina Weather".
10.07.2022 – Stable Mo is predicted to dominate throughout the second week of July. There will be longer intervals of sunshine, passing clouds. Precipitation is not expected at the moment. In terms of thermals, it will initially be warm weather, and during the second half again hot weather will spread over our country with temperatures above 30C.
The air quality during the next few days will mainly be indexed to good and acceptable values.
The UV index will be at higher and very high risk levels, so it is recommended to avoid longer exposure to the sun's rays during the midday hours.
Dates:
11.07 – Partly cloudy, but with longer sunny intervals.
12.07 – Mostly sunny in the morning. Passing cloudy day.
13.07 – Mostly sunny and warm.
14.07 – Mostly sunny and very warm.
15.07 – Hot and mostly sunny.
The minimum temperatures drop to 10C and 11C, while the maximum fluctuates between 23C and 25C, and on Friday they rise to 31C.
North winds remain dominant during this period and blow lightly and average 4-9m/s.
Atmospheric pressure increases above normal values, then slightly decreases.