Painting of the week/ Shocked 20th Century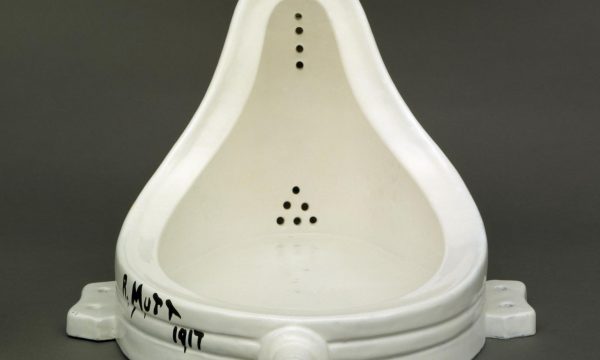 Excursion about the artistic work "Fountain" by avant-garde artist Marcel Duchamp.
Art is like water, there is head thin. Just as water enters almost even the hole we cannot imagine, so art also enters the most powerful trenches of truth..
Dragusha Light:
In 1917, there are two events that will shake the world in two opposite directions: the first event was the October Revolution led by Lenin, which, in addition to overthrowing Tsarism in Russia, would also overthrow almost the entire modern political order. In fact, this revolution will pull behind itself a spiral of violence, the sparks of which exist even to this day. Whereas, the second event was a bathroom tub which was used for men to urinate. This urinal, otherwise called Fountain (Fontana), from porcelain had caused so much shock that the art world from its appearance in April 1917 until today has never been the same again. While Lenin was presenting the absolute historical truth to humanity through the revolution, Marcel Duchamp will overturn the truth on the art that prevailed until then through a porcelain urinal.
For the first time in the history of art, a work of art was presented that was completely detached from the role of the artist in its realization. And, therefore, for the first time in the history of art, art began to be conceptualized in a different way, not to give the final answer, the assessment, but to pose the dilemma of what really is art and what is not. Fountain
Duchamp's (Fountain) will mark the greatest and most influential dilemma that art will face. Questions that once could even be considered to have an answer such as: What must a work of art contain to be considered art? What is inspiration in art? What is talent? Is the artist born or is he made? What constitutes a good deed and what constitutes a bad deed? Who is he/she to determine what is valid and what is not valid? Is there originality in art?, etc. All these questions, these conjectures were not so until it appeared Fountain (Fountain) of Duchamp. At least not in the tone they had.
In fact, with his work, Duchamp had done what even art itself means its own existence; suspicion. Doubt is the quintessence of art. And more than myself Fountain
Duchamp's (Fontana) artwork was the contradiction he presented, the debate he produced. This work of Duchamp does not relativize what is art or not, but I will deepen even more the dilemma of how to see what we take for granted. It is considered that a work of art that is predictable, that does not produce debate, that does not question, but is implied, then we are dealing with ideology. When the work raises doubts, contradictions and debates (not as an end in itself), then we are dealing with art. Art is like water, there is head thin. Like water that almost enters the hole that we cannot imagine, yes, art also enters the most powerful trenches of truth. Duchamp's masterpiece produced the greatest and fiercest art debate of the 20th century and continues to this day. Since, after the October Revolution led by Lenin, the era of mass murder had begun in the bed of absolute truthafter Marcel Duchamp's urinal show I will begin The Age of Anger.
/Gazeta
Express