What happens if the car is struck by lightning?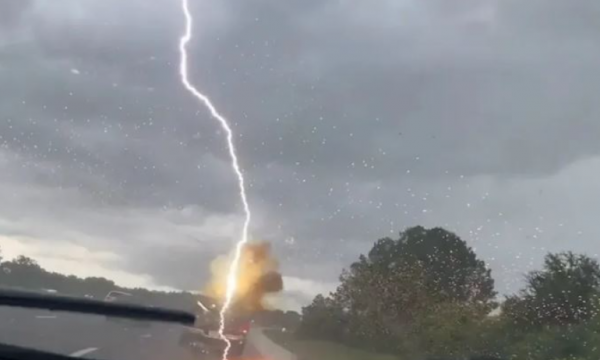 A woman filmed the moment when lightning struck the pickup her husband was driving and had children with him.
The lid, according to witnesses, was destroyed by lightning, but none of the residents were fortunately injured. The family was returning from vacation in two cars. The wife was in the back car and started to make the video, when she noticed that along with the rain, a lot of lightning started to fall.
The husband and the three children of the family were in the truck, on which a very strong lightning fell, Michaelle May Whalen at that moment was making a video trying to "capture" some impressive shots…
A woman in Florida captured the moment lighting struck the vehicle her husband and kids were in. The truck was "completely fried," but no one was hurt. pic.twitter.com/oePPFlcaJY

— CBS News (@CBSNews) July 6, 2022
Florida is considered the lightning capital of the USA, as it has the most lightning and thunderstorms, especially during the summer months. Each year, a survey has shown that in this particular state, an average of 1.2 million lightning strikes. Florida also has the most lightning-related deaths in the US, with 49 so far (while Texas, for example, has 22).
According to the director of EMY, Thodoris Kolidas, we should not get out of the car when there is a storm. The vehicle is considered a safe place to protect us from such weather phenomena: Since it is made of metal, it protects us from lightning. The car must have a metal roof so that the current spreads to the outside of the vehicle without hitting the passengers. This is why the passengers of the pickup truck were not injured by the lightning…
So, if you are in a car during a severe "storm", stop the car on the side of the road, in an area away from trees. Keep the windows closed and avoid contact with the metal objects of the car. The machine protects you from lightning as long as you don't touch any metal parts.
Myths and truths
Myth: Car tires protect you from a lightning strike by insulating them from the ground.
Truth: Most cars offer lightning protection, but that's because of the metal roof and metal sides of the car, not the tires. Remember, convertibles, motorcycles, bicycles, vehicles without roofs and cars with plastic roofs do not offer lightning protection.
When lightning strikes a vehicle, the electric current passes through the metal frame to the ground. Do not lean against doors during the storm.
Myth: Structures that are made entirely or partially of metal (car jewelry, cell phones, watches) attract lightning.
Truth: Altitude, pointed objects, and isolated objects in space are the main factors that determine where a lightning strike will occur. The presence of metals makes absolutely no difference to where the lightning will ultimately strike.
The mountains, despite being mostly stone, are struck by lightning several times a year. If you are threatened by a thunderstorm, take immediate protective measures by seeking a suitable shelter and do not waste valuable time trying to move any metal object away from you. /abcnews.al