The Monastery of Deçan also reacts after the clash between the Government and Europa Nostra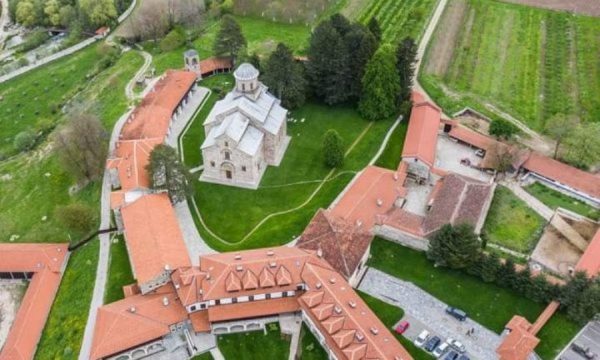 After the conflict between the Government of Kosovo and the Europa Nostra organization, after the latter considered the Deçani Monastery endangered, the monastery itself reacted officially.
Through Twitter, the Monastery of Deçan addressed the government, after the ministers Liburn Aliu and Hajrullah Ceku, asked Europa Nostra to apologize to Kosovo for the finding made.
"The institutions of Kosovo claim that the Monastery of Deçan enjoys full legal protection and demand an apology from Europa Nostra. They forget that for 6 years in a row, the decision of the Constitutional Court on the land of the monastery and the agreement for the Implementation Monitoring Council for a side road around the protected area of ​​the monastery have been ignored", says the reaction.
#Kosovo institutions claim Decani #Monastery enjoys full legal protection & request apology from @europanostra. They forget that for 6ys CCourt ruling on the Monastery land is ignored and the signed IMC agreement on a bypass road around the Monastery protective zone is rejected. pic.twitter.com/JIpXdCBDN8

— Dečani Monastery (@DecaniMonastery) July 9, 2022
Today, the former advisor to the head of the EU in Kosovo for religious issues, Rick Spruyt, reacted, who addressed the Prime Minister of Kosovo, Albin Kurti, with three questions.
"The Government of Kosovo rejects the design of the Monastery of Deçan by Europa Nostra as a cultural heritage in danger. So, will Albin Kurti ensure 1) the rapid implementation of the decision of the Implementation Monitoring Council in 2020, 2) the implementation of the decision of the Constitutional Court in 2015 and 3) the non-challenge of the Serbian cultural heritage?", he wrote on Twitter.
During yesterday, Aliu announced that the criticisms of Europa Nostra were addressed during a joint meeting they had with officials of this organization.
"Together with Minister Čeku, we declared that the insistence on the "danger" to the Monastery of Deçan is also a testimony to the non-professional, politically influenced approach of the Europa Nostra organization, and we reiterated once again that Europa Nostra owes him an apology and compensation for the damage caused to the reputation of the Institutions of the Republic of Kosovo", Aliu announced. /Express