Juventus has spent over 800 million euros in the last five years, but the Champions League is missing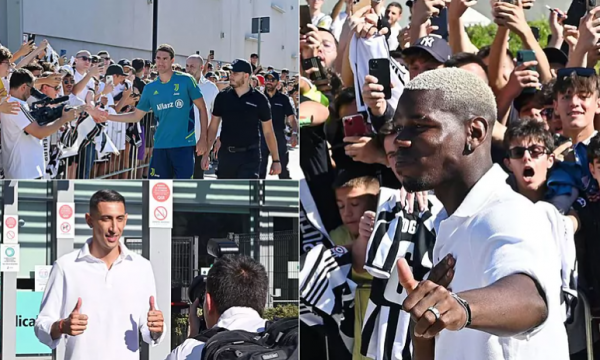 In 2018, Juventus was poised to dominate European football. The summer after their seventh consecutive Scudetto was followed by a transfer window where they made some big signings.
The Old Lady signed Cristiano Ronaldo for €117 million, Joao Cancelo for €40.4 million, Douglas Costa for €40 million, Leonardo Bonucci for €35 million and Emre Can on a free transfer.
They spent 263.20 million euros to strengthen a team that already had Paulo Dybala, Sami Khedira, Mario Mandzukic, Juan Cuadrado and Miralem Pjanic, reports Rhewal.
The following year, they also spent big, signing Matthijs de Ligt (€85.5m), Danilo (37), Dejan Kulusevski (35), Cristian Romero (31.5), Luca Pellegrini (22), Merih Demiral (19.5) , Aaron Ramsey (free), Adrien Rabiot (free) and Gianluigi Buffon (free).
Despite spending up to €230.5m and winning their ninth successive Serie A title, they were knocked out by Lyon in the round of 16 of the Champions League.
"We have said since the summer that the Champions League is the objective and it will be every year," president Andrea Agnelli said at the time.
"We can continue to grow. We have a team that guarantees a great future for Juventus", he said.
In 2021, they spent €155.31 million to sign Arthur (76), Nicolo Rovella (23.3), Alvaro Morata (20) and Rolando Mandragora (15).
However, it all went wrong that season as they were eliminated in the round of 16 of the Champions League by Porto and failed to win Serie A.
Juventus not only surrendered their Italian throne after nine consecutive league titles. They didn't even compete for the title and struggled to secure fourth place in the final game of 2020/21.
A difficult season, with Andrea Pirlo on the field, led to the return of Massimiliano Allegri to the bench and a change of direction in the team, marked by the departure of Cristiano Ronaldo to Old Trafford.
Although last season was their first without a title since 2010/11, finishing fourth in Serie A and being knocked out in the round of 16 by Villarreal, the Old Lady began to lay the foundations of their rebuilding project.
After the signings of Dusan Vlahovic (€81.6m) and Denis Zakaria (€8.6m) were made official, Juventus signed Angel Di Maria on a free transfer this summer, with Paul Pogba also back at the club.
In total, Juventus spent 815.51 million euros in the last five seasons. No team in Europe has spent as much on transfers, with the Old Lady followed by Manchester City (653.66), Real Madrid (631.25), Barcelona (621.10) and Chelsea (619).
/Rhewal/