Heavy rain today, floods are also warned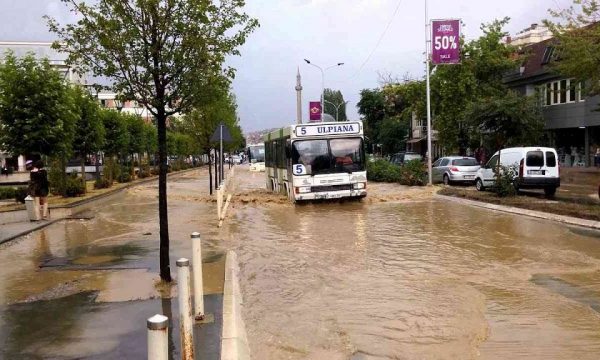 Prishtina Weather has announced that heavy rain is expected today, with the possibility of local flooding. The temperatures will be decreasing, until the first days of next week there is expected to be more sun, reports Express.
On Saturday, the weather will be colder and windier. The amount of rainfall predicted of 20mm in low areas, and up to 70mm around the Sharri mountain ranges, may also lead to localized flooding.
From Sunday, the weather is expected to be more stable, not too warm, with no chance of rain, with sunny and cloudy intervals. On Wednesday, mostly clear.
The rains and winds that will blow on the weekend will keep the air pollutants more dispersed, so the air quality index will be mostly at good and acceptable values.
The index of ultraviolet rays will be at low levels, and from Sunday it will again increase to high risk values, so it is preferable to avoid exposure to the sun during the midday hours.
9.07 – Mostly cloudy, colder and windy. The rains continue from time to time, even more intense in some places. They rest until the evening.
10.07 – Warmer, cloudy and sunny intervals.
11.07 – Mostly sunny in the morning, partly cloudy and warm during the day.
12.07 – Mostly sunny and warm.
11.07 – Warm and mostly sunny.
The minimum temperatures drop to 10C and 9C on Monday and Tuesday, and the maximum after dropping to 19C on Saturday, increase to 22C to 25C in the following days.
There will be moderate and strong winds from the north-northeast 7-15m/s on Saturday, then light and moderate 4-10m/s.
Atmospheric pressure fluctuates around normal values ​​at the weekend, then with increasing trends.