The end of the Russian gas monopoly in the Balkans, the Greece-Bulgaria gas interconnector was opened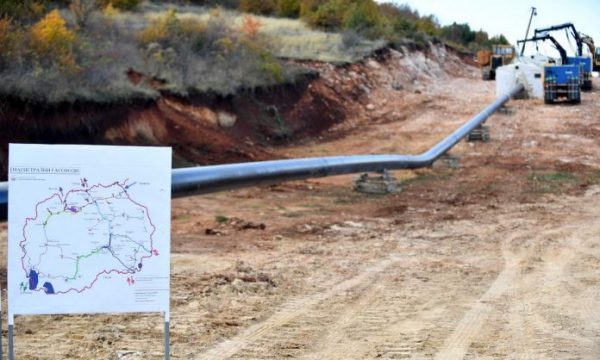 The Bulgarian Prime Minister, resigned, Kirill Petkov and the Greek Prime Minister Kyriakos Mitsotakis launched today the new gas interconnector between the two countries in the Greek city of Komotini. The Minister of Energy of Azerbaijan, Parviz Shahbazov, also participated in the ceremony, Meta reports, Portalb.mk reports.
"The interconnector will transform the energy map of the region, deepening the energy connection between the two countries", said Kiril Petkov, bTV Novinite reported.
He has added that the realization of this infrastructure project enables a real diversification of natural gas supply sources for Bulgaria, which until now was completely dependent on Russian gas. Petkov added that the first quantities of Azerbaijani gas, through the main gas pipeline connecting Greece and Bulgaria, will flow in the coming weeks.
Greek Prime Minister Mitsotakis stated at the ceremony that the connecting gas pipeline is a key energy bridge, which is important for Greece, Bulgaria, the Balkans and Europe. This infrastructure line connects the Greek city of Komotini with Stara Zagora in Bulgaria.
The Serbian newspaper Danas explains that the gas interconnector is 182 kilometers long and its initial capacity is to transport 3 billion cubic meters of natural gas, with the possibility of increasing the capacity to 5 billion cubic meters.
The Greek newspaper Katimerini writes that the commissioning of the connecting pipeline has been postponed for a long time. Minister of Azerbaijan Shabazov added that the commissioning of this project is a historic step that will diversify energy supply sources.
Alongside the existing international gas pipelines TAP and TANAP, this gas interconnector will be able to transport natural gas from the future gas terminal to be built in the Greek city of Alexandropoulos. Otherwise, North Macedonia currently has only one gas connection built with Bulgaria, so with the new gas interconnector Bulgaria-Greece will be able to import natural gas from Azerbaijan as well.