"One grave for yourself, one for the husband", the denunciation revealed the business for "two fingers and" in Tirana: The bones were taken out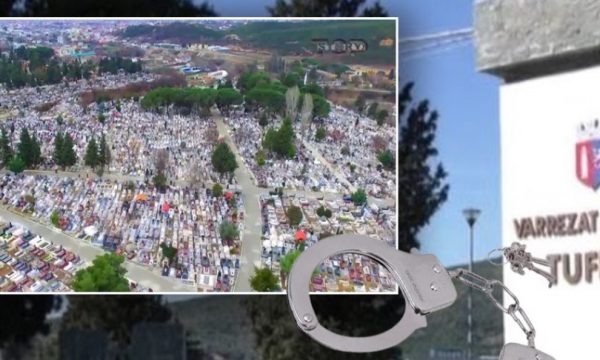 The denunciation of a woman has revealed the scandal with the sale of burial plots in the public cemetery in Tufina, which led to the imprisonment of 8 people, including officials.
Arrested officials and real estate agents were abusing their duties by taking bribes for booking a cemetery.
At the end of May of this year, a report came to the police from a woman, MS. In her report, MS explained that three years ago she was interested in two graves, one for herself and one for her husband. In that period, in September 2019, she met a person named Bujar, and according to the report, he is the driver of the cemetery in Tufina. Bujari told him that he knew the person in charge of the Tufina cemetery and his name is Adi, and together with him they will find the graves that Ms. MS was looking for
Further, the complainant together with her husband, Adi and Bujar met at the cemetery and Adi showed her two old graves and told her that there are corpses inside, they will remove them and put them in wall places. While what remains will be arranged with a border on top and will finish this work with 500 thousand old lek. In December 2019, after MS received the New Year's reward and with the savings he had, he completed the amount of 500 thousand lek and handed it to Bujar in his car.
Scheme
The investigations were started by the economic crime department of the Tirana police, which then referred the file to the capital's prosecutor's office. Among those arrested is Eljodor Ndini, director of the Funeral Services Agency of Tirana Municipality. According to the investigations, it is suspected that he, in cooperation with other persons, demanded sums of 30-50 thousand new lek to reserve a place in the cemetery.
Some of the arrested, according to the investigations of the prosecutor's office, exerted illegal influence on state officials by enabling the issuance of construction and reconstruction permits from the earthquake near the Tirana Municipality against the payment of 200 thousand new lek, the issuance of ownership certificates at the cadastre, the benefit of a soft loan from the municipality of Tirana, or a vaccination certificate for Covid against the payment of 30 thousand new lek.
The police documented this case of corruption through an undercover agent who gave the amount of money in exchange for a grave site. The investigations were followed by the prosecutor Bledar Valikaj and in order to discover the corruption scheme, interceptions and checks of offices and apartments were carried out.