Two policemen were seriously injured in last night's VMRO and Apasiev protest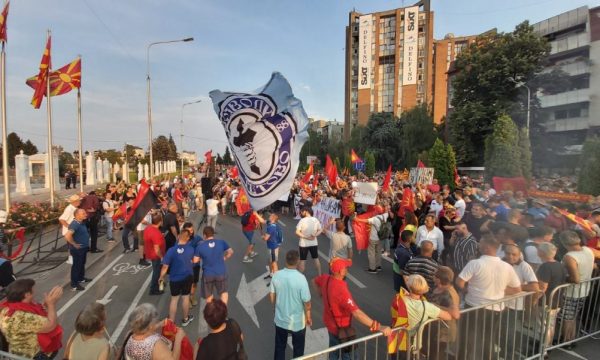 The situation during the protest held under the motto "Ultimatum – No thanks" escalated yesterday evening in front of the Assembly in Skopje.
Protesters in the direction of the police cordon securing the Parliament building have thrown hundreds of smoke flares, pyrotechnic tools and glass bottles.
The Ministry of Internal Affairs confirmed last night that two policemen were injured and were sent to the hospital.
According to the police, last night a person who was moving towards the Assembly carrying a hammer and stones was stopped by the law enforcement agencies.
The protests have been escalating for several days.
Protesters last night threw stones at the statue of Skenderbeu in "Skenderbeu" square in Skopje, in which case they damaged many properties and cars of Albanians.
They encountered resistance from the Albanians who did not allow the protesters to continue towards the Old Bazaar of Skopje.
The participants of the protest burned in front of the building of the assembly, the photos of the deputies of the majority which they had placed on a big banner.
Otherwise, we emphasize that the protest is expected to take place tonight even though so far nothing has been confirmed by the Macedonian opposition party, OBRM-PDUKM and E majta, which are the initiators of these protests against the French proposal.
The opposition insists that the French proposal is not at all acceptable to them, due to the fact that, according to them, the Bulgarian demands harm Macedonian identity, language and history.