"Srebrenica", Shehi: We need political memory, not flowers on dead graves! Balla: Sit down, director of the Eagles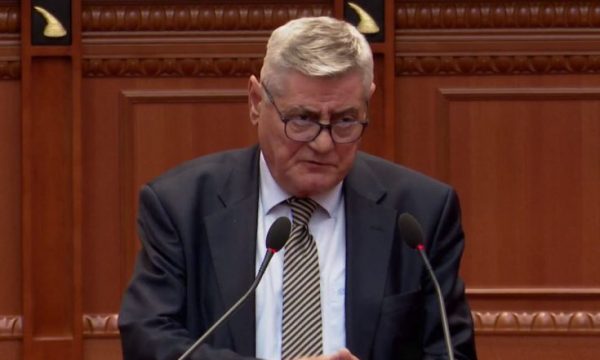 From the Assembly where the draft resolution of Srebrenica is being discussed, the Chairman of the Movement for National Development, Dashamir Shehi, said that the memory of the event should not be formal, especially since Kosovo has also experienced such a situation.
"Let's not forget that in '95, after the massacre in Bosnia, the West became self-aware, during the war in Kosovo, Clinton said that Milosevic does not have a license to kill in the Balkans.
Srebrenica was one of the acts of NATO intervention in Kosovo.
This resolution is not a formal obligation. We live in the Balkans, we will live, we have lived for 1500 years and we will live again with the Slavs. We must find a way to make peace. No one wants to extremize the situation, but as an Albanian, everything goes through Kosovo, which has had a similar situation in the past. When we make decisions about Serbia, we must make them not because we hate Serbs and Slavs, but we must have a serious partner in relation to Europe, with a partner who has made it clear that he does not recognize NATO, so I think that we should to reflect on the Resolution and the next steps in foreign policy. We must move towards Europe, every other half step puts crutches and does not lead to a peaceful coexistence.
Respect for the victims and memory should be political, not a bunch of flowers on extinguished graves"tha ai.
The head of the SP parliamentary group, Taulant Balla, responded to Shehu's criticism of the genocide in Srebrenica, who emphasized that the resolution on the genocide in Srebrenica is totally the same as the resolution of the European Parliament.
"Mr. director of the Eagle, sit down a little… have you not learned that a reply is not a mention of a name… You can consider my word during group time… First of all, age should be the maturity not to lie because you don't have time to recover. Now the EP resolution has this title, in commemoration of Srebrenica, now here you lie and say that you do not have the same title, but on the contrary we have gone even further. But I did not want to deal with the director or the owner of the Shqiponja company in this session. I guarantee that the PE document is the reference document. The Parliament of the Republic of Albania commemorates the victims of the genocide in Srebrenica. ", Is Wall.
/Express