Srebrenica/ Berisha with harsh tones: Vucic should be investigated in The Hague, Rama humbles himself in front of him (Nikolla interrupts him)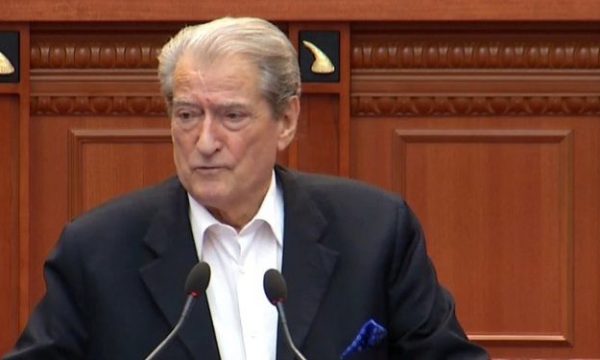 The head of PD Sali Berisha has spoken in harsh tones about the draft resolution that condemns the Serbian genocide in Srebrenica.
Berisha said that she has a double attitude because she hides the ideologue of the massacre, Milosevic Vucic, who, according to him, should be investigated in The Hague.
"This parliament is one of the major causes of the biggest popular revolt that stopped with the fall of the communist regime of Edi Rama. Genocide, as the most heinous, most serious form of crimes against humanity, could not but bring me here to condemn with the greatest force, the Serbian barbarism towards the Bosnian people and the region. After rejecting in the most absurd way a resolution proposed a month ago, a resolution is brought to you that I appreciate, but your resolution is that of heartbroken, double-minded people.
On the one hand, it condemns the genocide, but on the other hand, it deliberately hides the ideologist, the architect of the genocide in Bosnia, Milosevic and Edi Rama's son, Aleksander Vucic. But how can you do this when in all the world's media there is Vucic's statement in the parliament, which instructs and vows that for every Serb killed, 100 Muslims will be killed. Do you understand that Vucic has only one country and that is The Hague. You don't dare try him in The Hague but do everything to limit him to the Serbian forces in Bosnia.said Berisha.
During his speech from the floor of the Assembly, Berisha made strong accusations against Prime Minister Rama and the Open Balkans initiative.
"What prompts you not to be open and to condemn with all your soul and with all your heart the greatest massacre that Europe has known. You talk about murders in Kosovo and not genocide in Kosovo. What is your capitulation and submission to Vucic? You are unable to do anything. To the Serbian paramilitary police forces who go to kill Bosnian Muslims in Bosnia, why do you have this complex that your leader is a vassal of Vucic. Open Balkans protects crime, Open Balkans is for Russian influence. Even towards Russia, you have two attitudes, you accept Russian tourists here who kill children and rape women, you accept these barbarians on the beaches of Albania. By whose order do you accept Vucic for sure." said the head of the DP, but he was interrupted by the Speaker of the Assembly, Nikola.