Protest tomorrow, the police start taking measures, 1200 police forces on the ground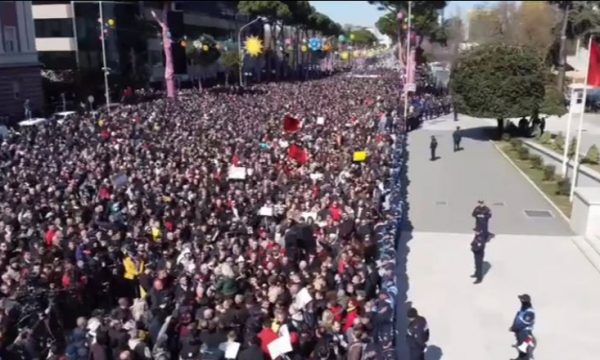 The next day, the protest called by the Democratic Party will take place.
The State Police has started with the plan of measures from today. Sources close to the blue uniforms said that approximately 1,200 police officers of the rapid intervention forces are expected to be engaged, as well as civilian agents who will be on the ground to ascertain illegality.
It is announced that the head of the Government himself will not be in the office on the day of the protest, as he will be in Vlora until the evening.
Rama moved the reconstructed mushroom after the destruction of the first one by former opposition protesters from the flower garden to the entrance of the prime minister's office.
Also, the main door and windows will be covered with reinforced sheet metal, to prevent protesters from entering the government headquarters. On the boulevard, the lighting poles will be painted with graco material and some megaphones will be installed.
The order teams will stay in a cordon shape, then there will be those of the Eagles, while the FNSH groups will be positioned a few meters below.
Several control groups will stand at the entrance of the capital. Anti-terror officers will also be engaged in this protest. Agents of this sector will observe persons suspected of terrorist tendencies.
A day before the July 7 protest, Sali Berisha expressed his belief that the participation will be massive, as he had a warning for the State Police.
"I warn all types of police that any pressure, any attitude, any attempt to intimidate, to violate, to hinder the opposition people will be registered and will receive deserved personal legal punishment. I warn not to provoke the protesters. Edi Rama is invited to consider his resignation as soon as possible, said Berisha.