Meta reacts to the fiscal amnesty: To give up urgently, to implement the recommendations of the IMF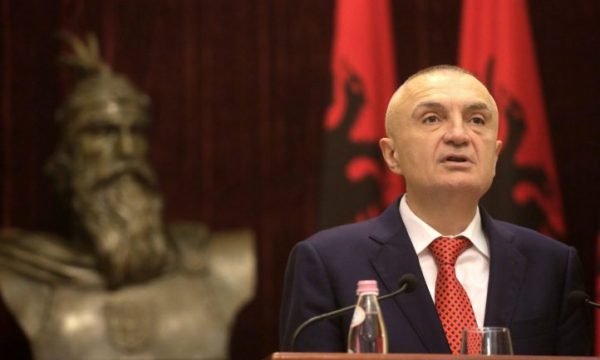 President Ilir Meta has reacted to the fiscal and criminal amnesty bill.
In a long message on "Facebook", the Albanian Head of State states that "I call to urgently give up this hopeless effort, and to implement without delay the recommendations of the International Monetary Fund and the European Union, apologizing to all honest Albanians for this undeserved provocation".
Full post:
I followed very closely the numerous reactions from local and foreign experts, as well as the official warning of the European Union, on the draft law on fiscal and criminal amnesty.
Among the arguments based against this initiative of the Government, it is warned that through this law:
📌 – The world of crime would be clearly favored, offering the opportunity for the income obtained over the years from criminal activity by organized groups or individuals to invade the local economy, and especially the financial market, legally;
📌 – Honest business and free domestic initiative would be directly hit and damaged;
📌 – Serious foreign investments in Albania would be further discouraged;
📌 – The entire economy would be criminalized, and consequently the entire Albanian society, exposing the country as a destination that favors the activity of international mafia criminal organizations and groups;
📌 – Society's trust in the rule of law, in institutions, in equality before the law would be further undermined, and the informal economy would be encouraged even more;
📌 – It would encourage the wrong and very dangerous perception that every criminal activity and its product will always be friendly in the future;
📌 – It would result in an increase in street crime;
📌 – Efforts to fight organized crime would be undermined, which according to the reports of specialized agencies, has already turned Albania into an operational base;
📌 – The commitment and efficiency of all state structures and mechanisms that fight money laundering and proceeds of criminal offenses would be weakened;
📌 – Cooperation with partner countries and the process of membership in the European Union would be damaged;
📌 – The image of Albania as a member of NATO would be severely compromised, and the spotless image of all honest Albanians would be harmed;
I fully support all these well-argued concerns that raise the alarm about the latest initiative of the Government, and that were expressed earlier through the Resolution of the European Parliament dated May 19, 2022.
The Government's irresponsible disregard for them is unacceptable and intolerable.
Anyone who thinks that they will compromise honest Albanians as co-authors in crime is wrong.
I call for an urgent abandonment of this hopeless effort, and for the recommendations of the International Monetary Fund and the European Union to be implemented without delay, apologizing to all honest Albanians for this undeserved provocation.
The Albanian government has the duty to create the conditions and stimulate the development of the country through honest work, free competition and equal opportunities, and not to proclaim crime as the model of success in life.