"Kosovo paid for freedom with blood", Mandl's powerful speech in the European Parliament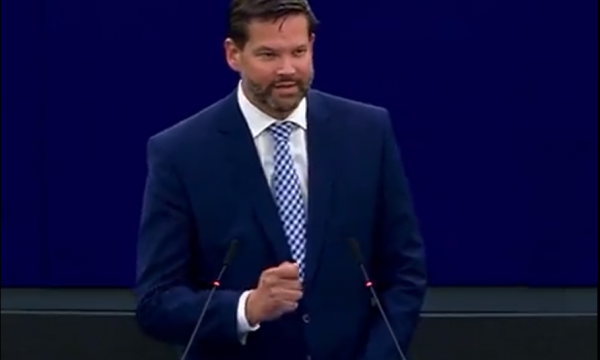 The Austrian MEP, Lukas Mandl, who is one of the biggest supporters of Kosovo in terms of the path of European integration and the visa liberalization process, spoke today in the European Parliament where the Report on Kosovo will be discussed, writes Rhewal.
Mandl has said that all the states of the Western Balkans are important for the future of Europe, but that he will only talk about Kosovo.
Mandl has said that Kosovo has paid with blood for freedom and that Europe and the USA have helped it gain independence. The Austrian further says that Kosovo has become a democratic country where the law rules and where there is a very powerful Constitution, reports Express.
"All the states of the Western Balkans are important for the future of Europe. But today we will talk about the report on Kosovo. Kosovo has paid with blood for its freedom. The EU and the US have helped the country gain independence. This country has become democratic and has the rule of law. It is a stable democracy and diverse country. Yes, the rule of law must be improved, but they have a powerful Constitution", said Mandl, Express reports.
He also spoke about the recognition work and mentioned the fact that Kosovo is still denied the freedom of movement without visas. Mandl has said that the promise of visas for Kosovo has not been kept and that the message that the European Parliament will convey today will be very important.
"This country has been recognized by more than 100 countries, including Israel. This is a country that is still not recognized by a small number of EU countries. This country is the only country in the Western Balkans that does not enjoy visa-free movement. Promises have been made to this country, which have not been kept. This happened with the Republic of Kosovo. But the people of Kosovo support EU integration, more than all the other countries of the Western Balkans. And much can be learned from Kosovo, this new democracy in Europe. Therefore, today's signal from the European Parliament will be important", said Mandl in his speech.
PS: English version. #Kosovo #EU #EuropeanParliament #RotWeissRot in #Europa pic.twitter.com/iejA8ULgYf

— Lukas Mandl (@lukasmandl) July 6, 2022