The killer who "blow up" the journalist confesses: It was just a job, he ordered a high political figure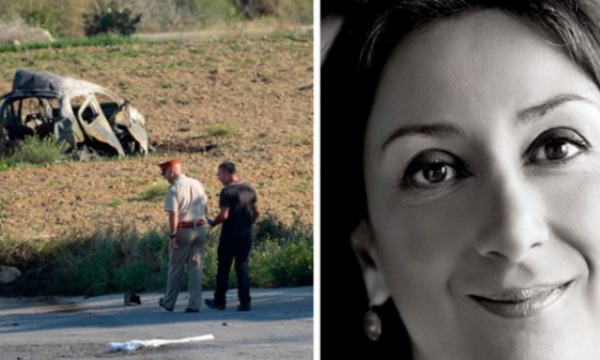 The man accused of detonating explosives planted in the car of Maltese journalist Daphne Caruana Galizia in the 2017 murder has confessed to the crime in an interview with a Reuters reporter.
While hinting that he will soon discover others who were involved in the plot to kill the journalist, George Degiorgio said that if he had known more about Galizia then he would have asked for more money to carry out the murder.
"If I had known, I would have asked for 10 million. Not 150 thousand euros", he emphasized, referring to the amount he said was paid for the murder of the journalist. "For me it was just a job. Yes. Same thing here!" he told the Reuters reporter. And then he added: "Of course I'm sorry."
The interview with Degiorgio was conducted during research for a podcast on the Caruana Galizia case, titled "Who Killed Dafne?"
His confession came after several attempts by Degiorgio's lawyers since 2021 to secure a pardon in exchange for testifying about his role in the murder of Caruana Galizia and other alleged crimes involving prominent figures in Malta.
On June 22, the Maltese Court of Appeal dismissed Degiorgio's remaining legal appeals against the murder charges against him and his co-accused brother Alfred. The decision paves the way for the trial to continue.
The car bomb murder of the investigative journalist shocked Europe. Maltese authorities accuse Degiorgio and two other men, his brother Alfred and an associate named Vince Muscat, of killing Caruana Galizia in October 2017 on the orders of a well-known businessman in the country.
Degiorgio told Reuters he would plead guilty before any jury trial. "I'll talk to the judge," he said. He hinted that he would testify to implicate others in the murder and an earlier plot to kill the journalist, which failed. His motive, he said, is to seek a reduced sentence for himself and Alfred and to ensure that "we are not the only ones guilty!"
Until now, both Degiorgio brothers had denied involvement in the murder. Muscat pleaded guilty to murder charges in 2020 and received a reduced sentence of 15 years in prison in exchange for testifying in that case and several other crimes.
One of the island's richest businessmen, Jørgen Fenek, was also accused in November 2019 of instructing Degiorgio and his two accomplices to carry out the execution. Fenech has denied the charges, but has yet to present his defense. In a statement, his lawyer, Gianluca Caruana Curran, said Fenech plans to prove in court that he "in no way actively wanted, sought or financed" Caruana Galizia's murder.
"While categorically pleading not guilty, Fenech maintains that with the available evidence, independent and serious investigations could lead to the arrest and indictment of the true perpetrators behind the murder."
Fenech was identified as the mastermind by a suspected middleman, taxi driver Melvin Teuma, who escaped prosecution for his role in the case in exchange for testimony. Teuma stated that he organized the murder with the Degiorgio brothers on behalf of Fenek. He testified that he never revealed Fenech's identity to the Degiorgio gang.
In the interview, Degiorgio said he was willing to testify that a senior Maltese political figure had tried to organize a hit on Caruana Galizia in a separate plot two years ago. Degiorgio also said he would be offered to testify about the involvement of two former senior ministers in an armed robbery.
Reuters is not giving further details of the charges at this stage or naming the people accused by Degiorgio, who all deny any involvement in any crime. Caruana Galizia was killed after exposing a series of corruption allegations against prominent people, including ministers in the island's Labor Party government. Her murder raised suspicions that some of the people she was investigating may have been involved in her murderous plans.
Fenech, who is accused of ordering the journalist's murder, was first identified in connection with Caruana Galizia in November 2018 articles by Reuters and the Times of Malta. Reports described him as the owner of a company known as "17 Black" that Caruana Galizia claimed, without providing evidence, was used to bribe politicians. Fenech also ran a controversial power plant project in Malta.
According to prosecution evidence presented in court in several preliminary hearings since 2018, George Degiorgio and his gang followed the reporter throughout the summer of 2017. In the early hours of October 16, 2017, prosecutors allege the gang planted a bomb under one of the seats in her car.
That afternoon, Degiorgio was reportedly on a yacht in the island's Grand Harbor when his brother Alfred, who was watching the house, called to say the reporter got into her car and drove away. Degiorgio then sent a text message from the yacht to a mobile device that activated the bomb, prosecutors said in court.
After the car exploded, Caruana Galizia's son Matthew heard the explosion, ran from the family home and found his mother's body. Since then he has been campaigning for justice for his mother. Asked about Degiorgio's comments, he told Reuters: "George Degiorgio's words alone show that he is a cold-blooded killer who deserves no apology."