Meta in a meeting with his Slovenian counterpart: Thank you for your support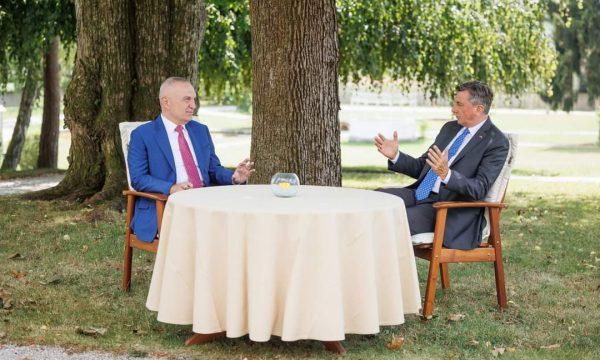 The President of the Republic, Ilir Meta, was received today in a meeting by his counterpart, the President of the Republic of Slovenia, Borut Pahor.
Meta expressed his gratitude for the support that Pahor and Slovenia have given to Albania in the framework of the European integration process.
Considering Slovenia an important regional partner of the Western Balkan countries in the European Union, President Meta expressed his thanks to the President of Slovenia for his support and hospitality.
"Thank you very much Mr. President! It was a great pleasure for me to be in Ljubljana today, hosted by the President of Slovenia, my very good friend, Barut Pahor in this farewell meeting before the end of my term as President of Albania at the end of this month!
I would like to thank President Pahor for his great support, as well as Slovenia's, to the opening of Albania's membership negotiations with the European Union and not only for Albania, but also for his and Slovenia's efforts to expand the integration of Western Balkans!
We fully agreed that we must continue to do our best. Let's continue with our internal reforms, show more results, give more. We also expressed the conviction that the European Union will better understand the geo-political importance of the Western Balkans for the EU and Europe, especially nowadays.
This is why the expansion must continue. This is the reason why this should be made concrete. This is the reason why President Pahor and Slovenia strongly support the opening of membership negotiations with Albania and North Macedonia, the granting of candidate country status to Bosnia and Herzegovina, the liberalization of the visa regime for Kosovo.
Also, this is the reason why we appreciated the recent decision of the EU to grant candidate country status to Ukraine and Moldova, because it is essential to show the whole world and in particular all the countries of our continent that enlargement is continuing, that enlargement is progressing and that these reforms that we are undertaking with the aim of approximation to the European Union, will continue to play the role of driving force for our societies, which will not only help our countries to improve the standards of democracy , the rule of law, the economy and social standards, but also to strengthen stability and peace in our region and on our continent.
We rely heavily on Slovenia in the future and I hope and wish that the next Brdo-Brijuni Summit that will be held here will give a new impetus to the expansion of the European Union and the aspirations of our countries for a European future! "