Hand luggage, German television shows travelers what they can take on the plane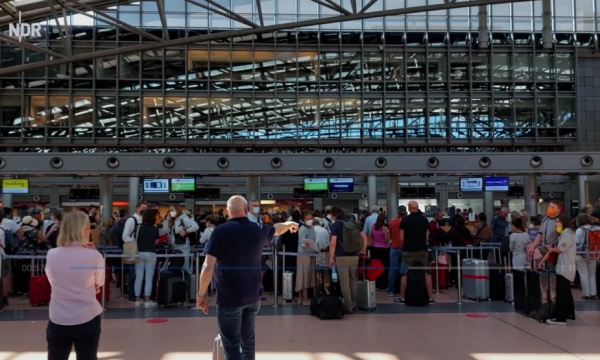 Waiting times at airports are particularly long this year in Germany. Therefore, travelers should be familiar with security and customs regulations. What is allowed in hand luggage? What souvenirs and how much alcohol can you put in there?
Anyone who flies on holiday usually has personal items in their carry-on luggage, such as cosmetics, hand cream or a lighter. This can lead to problems at airport security – and this year, the already very long lines at check-in are getting even longer. Many vacationers also take a souvenir back with them or buy in advance in the store. What goods can be imported? What can you take with you? These questions are answered by the German public media, NDRreports Rhewal.
How many liquids are allowed in hand luggage?
Liquids in hand luggage must be packed in plastic bags.
Passengers can only take liquids in containers with a maximum of 100 milliliters each on the plane in their hand luggage. This also includes creams, toothpaste, cream cheese or lip gloss. All containers must be placed in a clean, resealable plastic bag with a maximum capacity of one litre. These bags are available for example in pharmacies. A maximum of ten 100 milliliter bottles are allowed, provided they are placed in the appropriate transparent bag. Only one suitcase per passenger is allowed. Medicines for personal use are exempt from this rule. Larger quantities of liquids must be in checked baggage. There are no upper limits on liquids – other than restrictions on maximum total weight.
Incidentally, the rules for liquids also apply to food. The amount of jam or yogurt in hand luggage is limited to 100 millimeters each. An exception to this is baby food. Bread, chocolate and other solid foods are also allowed in hand luggage.
Nail file: what is not allowed in hand luggage?
Weapons of all kinds, pocket knives and other knives with a blade length of more than six centimeters, sharp objects such as nail files, scissors, needles and bottle openers must not be in hand luggage. Like larger amounts of liquids, they belong in checked luggage. Gas containers for camping stoves, toy guns, fireworks, petrol matches, wet batteries are strictly prohibited. Gas lighters are allowed.
How big and heavy can hand luggage be?
Carry-on baggage rules vary by airline.
There is no uniform rule about how big and heavy hand luggage can be. However, many airlines allow a maximum weight of 8 kilograms and maximum dimensions of 55 x 35 x 25 centimeters, including handles and wheels. Larger or heavier bags usually need to be checked. Depending on the airline and booking category, this may incur additional costs. Therefore, travelers should definitely find out in advance about the regulations in force with their airline and on the booked fare.
Hand luggage: Can an extra bag be carried on board?
Most airlines also allow you to carry on a laptop in addition to your hand luggage. However, airlines also handle this question differently. In particular, low-cost airlines are often strict here. However, with some fares and airlines, taking a second carry-on bag is free, for example in business class. If you are not sure what is allowed, you can find the relevant information in the booking information or on the airline's website.
Alcohol and tobacco
When it comes to alcohol and tobacco, European Union countries allow up to 800 cigarettes, 10 liters of alcoholic beverages, 60 liters of sparkling wine and 110 liters of beer for personal use without having to declare. For coffee it is 10 kilos. There is no limit to wine. If you are returning from a country outside the EU, you are only allowed 200 cigarettes and 1 liter of alcoholic beverages with more than 22 percent alcohol by volume or 2 liters with an alcohol content below 22 percent, as well as 4 liters of wine and 16 liters of beer.